Eugene V. Debs in Ohio: The Transformation of Third Party Politics
---
I wrote this many years ago in college.
Third party politics has existed in the United States ever since there has been some type of formal electoral and political process. However, third party candidates have more often than not been forgettable, non-victorious, and un-influential candidates. Nevertheless, there is one candidate who paved the way for all future third party politicians such as Ralph Nadar, Pat Buchanan, and Ron Paul. These politicians, whether you agree with them or not, are part of our political spectrum today due to their predecessor. This man was political figure and Socialist, Eugene Victor Debs. Debs was one of the first presidential candidates to truly popularize the idea of running for President of the United States without the sole intention to win the election. Instead, he ran in order to promote a particular cause. Herbert Morais writes in Gene Debs that Debs once said, " I wish no office, no honors-empty baubles all. When my days are ended, I shall have enjoyed the love of those capable of appreciating a man who is true to himself, and that is enough."
As Debs said for himself, his intentions were never to hold office as a presidential candidate but instead to promote a larger idea, in his case the rights of the lower and labor classes. Throughout his campaigning and throughout his life, there was one event in particular that would transform third party politics forever. On June 16, 1918, Debs made his infamous Canton speech in Canton, Ohio. On that day he defended American laborers, the right to freedom of speech, support for the Russian Revolution, and he strongly opposed President Woodrow Wilson and World War I. The immediate result of his speech was a trial in Cleveland. Debs was found guilty for violating the Espionage Act of 1917 and Sedition Act of 1918, and sentenced to ten years imprisonment in the Atlanta Federal Penitentiary, where he began serving his time on April 13, 1919. In history books this event is usually briefly skimmed over, leaving the rest of Debs' story to the imagination. However, there is a larger question involving Debs and the events in Canton – how was third party politics transformed by Eugene Debs' Canton speech in 1918 in Ohio? It is true that the results and true consequences of his actions in Ohio have lasted throughout time for candidates and politicians today.
Long before he was a presidential candidate, Eugene Victor Debs was born November 5, 1855 in Terre Haute, Indiana to parents Jean Daniel and Marguerite Marie Bettrich Debs. His parents had come to America from Alsace only six years before he was born and were in the grocery business in Terre Haute. Imbued with a love of the French and German Romantic writers, Jean Debs named his first son after two of those writers – Eugene Sue and Victor Hugo.
By the age of fifteen, Eugene was working for the Terre Haute and Indianapolis Railway Company. He started as a laborer and later graduated to a locomotive fireman. Debs continued to work his way upwards within his city, and eventually become the associate editor of the Locomotive Firemen's Magazine in 1878. Barely one year later, Debs was elected for a two-year term as city clerk of Terre Haute. And he was re-elected when elections came around again. After four years as city clerk, Debs was elected to the Indiana House of Representatives as a Democrat in 1884.
Then in 1885, Debs married Katherine Metzel. Within in thirty years Debs had established himself as a hometown favorite, a laborer, a politician, an editor, a state representative, and then after his marriage a family man.
While these thirty years serve as the base for Debs as a man, what had yet to come would be the defining moments for both himself and for third party politics.
In the 1890's Eugene Debs became president of the American Railway Union, and was a prominent public figure stirring up controversy with the Pullman Strike. Debs was jailed for the first time (and certainly not the last time) in 1894 for his role in the strike, which escalated from a strike by the workers who made the Pullman Company's cars and who appealed to the American Railway Union. Debs believed that the boycott was risky, given the hostility and tension of both the railways and the federal government, the weakness of the ARU, and the possibility that other unions would break the strike. The ARU ignored his warnings and refused to handle Pullman cars or any other railroad cars attached to them, including cars containing U.S. mail. Shortly after the strike began Debs was found guilty of interfering with the mail on the cars and sent to prison. He was released November 22, 1895 after serving his term in the McHenery County Jail in Woodstock, Illinois.
However, the real significance of the Pullman Strike would be Debs introduction to Socialism. Without question, the strike and his jailing were crucial events in his conversion to Socialist ideologies. Debs credited his time in prison as the eye opening experience that persuaded him to switch parties. He was once quoted as saying, "At Woodstock (Jail), Socialism gradually laid hold of me in its own irresistible fashion. Books and pamphlets and letters from Socialists came by every mail and I began to read and think and dissect the anatomy of the system in which workingmen, however organized, could be shattered and battered and splintered." With his time in jail, Socialists were able to persuade Debs. Debs himself was surprised how long it took him to recognize Socialism. He once wrote of Socialism, "Utter failure to grasp significance scope and character of the Socialist movement. From crown to foot soles I was a 'pure and simple' trade unionist. I realized that Socialism had been thrust upon me at the point of a capitalist bayonet…" From this moment on Debs would disconnect himself from major party politics of the Democrats. He identified himself as not only a Socialist, but also a man of the working class, a man of the lower class, and a man who was willing to speak the truth to the people, and on behalf of the people.
It is important to note that Debs was not only a voice of the white males in America, but also a sincere voice for all citizens, including minorities. Despite political trends at the time, Debs truly believed that all people of America should be viewed as equal and important. Debs used his magnificent voice to fight against every form of discrimination and division based on nationality, race, or creed. "In dealing with human begins I know no race, no color, no creed," he said. Issues such as these were more reasons why Debs used presidential campaigns as stages to voice his opinion.
Later in the 1890's Debs supported William Jennings Bryan in his unsuccessful bid for the presidency. Eventually, Debs realized his stock was rising in popularity and he accepted the nomination of the Socialist party to run for president in 1900. So began what would be a long and hard road as a third party presidential candidate. Debs ran for president five times, never once winning or even receiving a single electoral vote. Debs became renowned for not being a sincere competitor for the White House, but as a political voice. He served as a voice that the country was interested in hearing, and not only the people of the Socialist party.
Up until this point in history, third party politicians were hardly even considered competition for the presidency. The rare exceptions were almost always former presidents who ran under a third party name, even though they were already in office as president under the political parties of Democrat or Republican. These candidates included, Martin Van Buren in 1848, Millard Filmore in 1856, and Theodore Roosevelt in 1912 (with the most successful third party results ever). And then there is Eugene Debs.
Why is it that when third party politics is mentioned, inevitably Eugene Debs' name comes up? It is not by coincidence or chance. Debs ran for the presidential chair five times in just twenty years (1900-1920), only opting out of the 1916 election due to illness. This is by far more presidential bids than any public third party candidate in the history of the United States. When people discuss third party movements that are worth remembering, it is truly impossible to exclude Debs. With this said, the one moment that changed Debs' legacy and third party politics forever was his infamous Canton speech. Until this day, no moment had come close to changing the way third party politics worked the way Debs changed it in Ohio.
It is important to note that the fact that Debs made the speech is not the only focal point, but also the fact that he specifically made it in Ohio. In recent years Ohio has gained some notability for being a crucial swing state in presidential elections. The 2004 presidential election was not the first time Ohio had helped decide an election, and it will not be the last time.
Eugene Debs had a great appreciation for Ohio and Ohioans, coming here annually during his campaigns to speak. He believed Ohio represented more than itself, but that it also served as a great representation of what was happening elsewhere in America at the time, a comparison still used today. He once wrote of Ohio's representation of industry, "The Buckeye state has a central and commanding position in the class struggle in America. It is highly industrialized and ought to be a very stronghold of the focus of industrial liberation." Though Debs was born and raised in Indiana, his admiration for Indiana's neighbor state was always relevant.
On his 1908 Red Special campaign he once conversed with a crowd in Toledo, Ohio. "This is about the time of year," said Debs, "when the orators of the capitalist parties- the Democrats and Republicans-are coming before you and telling you how intelligent you are-they tell you how intelligent you are to keep you ignorant. We tell you how ignorant you are to make you intelligent. You produce all the wealth and have none of it. The capitalist class produces no wealth and has all of it. You make the automobiles and-walk." Then a voice shouted from the crowd: "And get run over." These types of exchanges were commonplace with Debs, but were not so common within standard politics. However, it was a large part of why Ohioans loved him. His history with Ohio inspired him to write an entire essay entitled The Situation in Ohio. "The comrades of Ohio are entitled to my lasting gratitude for their fidelity and devotion during the past few months and I shall gladly avail myself every opportunity to work hand in hand with them."
His regular appearances in Ohio were not mere accidents. At the beginning of 1915, thirty-one socialists sat in the state legislatures between Massachusetts and Ohio. The state had long been a radical stronghold and already a number of Ohio socialists had been arrested in 1918. The socialist vote was high in Cleveland, Toledo, Sandusky, and smaller towns in the Midwest. Not only did Debs recognize Ohio's national importance early on in the country's history, but Ohio helped define the legacy of Debs as well.
So here we are, in 1918 with Eugene Debs in Ohio. We understand the road Debs has taken to this point, and we understand that his speech and consequences of his speech would be crucial turning points in third party politics. However, Debs did not just make a speech to stir up controversy, he had a reason and cause.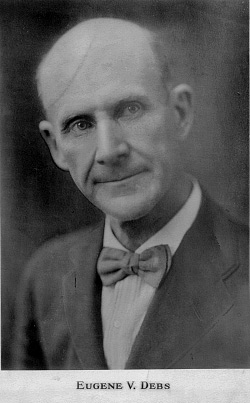 With the onset of World War I the United States government and President Woodrow Wilson quickly enacted the Espionage Act of 1917 on June 15, 1917 in order to reduce so-called "panic" over the war. The basic principle of the Act was that it was a crime for any person to convey information with intent to interfere with the operation or success of the armed forces of the United States or to promote the success of its enemies. In short, no American citizen was allowed to help wartime enemies.
Only a year later the Sedition Act of 1918 made it a crime to speak, print, write or publish any disloyal, profane, scurrilous, or abusive language about the United States' form of government. Obviously Debs, who was a strong advocate of the first amendment, was offended and appalled by the two wartime acts. Debs once said in reaction to the act and their felony convictions under the law, "I despise the Espionage Law with every drop of blood in my veins, and I defy the Supreme Court and all the powers of capitalism to do their worst." These acts were the jumping off point for Debs to start a chain of events that produced a change in third party politics. Debs finally had enough of the governmental actions he considered to be political, capitalist, and imperialist and he took center stage.
Debs was determined to make an example of himself and the acts. Exactly one month after Congress had passed the Sedition Act, Debs went to Canton, Ohio to deliver an address at the Ohio State Socialist Convention in the city. Before the meeting was called, he went to visit three of his comrades who were in prison for violation of the Espionage Act. His sympathy went out to these men whom he considered martyrs to the cause of Socialism. A majority of people convicted under the Espionage and Sedition Acts were Socialists. A large part of the Canton speech was in praise of what he considered the real service of his comrades (Debs used the word comrades to identify those whom he identified with) to the cause of freedom of speech. In what was almost the opening statement, he referred to his comrades in prison by saying, "They may put those boys in jail-and some of the rest of us in jail- but they can not put the Socialist Movement in jail…They [the prisoners in Canton] have come to realize as many of us have, that it is extremely dangerous to exercise the constitutional right of free speech in a country fighting to make democracy safe in the world."
This was just the beginning of what would turn into a very lengthy two-hour speech, which Debs knew quite well would get noticed. A speech he intended to be noticed, and pay a high price for. Hundreds upon hundreds were gathered in Canton on this summer day to hear Debs speak. Among these energetic citizens were government spies at the Canton Socialist Convention when Mr. Debs made his speech. When asked if he sensed the likelihood of arrest for his assertions at that time, his eyes flashed. Then a little smile crept around his expressive mouth and he unhesitatingly answered: "I knew that that speech was likely to settle the matter."
Nevertheless he spoke on. He declared, "I am opposed to every war but one; I am for that war heart and soul, and that is the world-wide revolution." He repeatedly urged American men to refuse to serve in the military, even though he knew he could be prosecuted for such remarks under the Espionage Act. "I would a thousand times rather be a free soul in jail than a sycophant and a coward in the streets," he told a Socialist gathering in 1918. Debs condemned President Wilson and the United States government throughout the speech for leading the country into an imperialist war, and for ignoring its own citizens needs. "They declare war; they make peace. 'Yours not to ask the question why; yours but to do and die.' This is their motto, and we object on the part of the awakened."
If there was a rule in the Espionage and Sedition Act that Debs could break, he did. After speaking out against the war and the government, he shifted his focus to the Russian Revolution, which had happened a year prior. Debs praised the revolution as a great accomplishment. "I hear our heart beat responsive to the Bolsheviki of Russia. Yes, those heroic men and women, those unconquerable comrades, who have, by their sacrifice, added fresh luster to the international movement…they have laid the foundation of the first real Democracy." Debs fully understood the controversy of his remarks as he was making them. He knew that if he was going to make a speech in which he wanted to prove a point to the people and other politicians, this was the one. Topics that were taboo and politically incorrect to preach during this time, especially in front of a huge crowd, were the exact topics Debs was determined to address.
After two hours of cheering, applauding, laughing, and yelling, Debs made his stance and point clear then left Ohio to continue his speaking tour. Meanwhile, the government and media reacted swiftly. Threats of arrest were made against Debs if he should ever return to Ohio. A warrant for his arrest was put out almost immediately after the speech was reported by … of the Cleveland newspaper The Plain Dealer. If Debs were to return to Ohio (which everyone knew he would) he would be arrested. The newspapers immediately blazed forth such headlines as: "Eugene Debs Turned Traitor." A serious question growing out of the speech of Debs in Canton is whether the term "traitor" was properly applied in his case. Not only did some of the periodicals of the country condemned him as a traitor, but even President Wilson and Governor Warren McCray of Indiana did so.
Undaunted, he went into Northern Indiana to fulfill his speaking engagements, determined to return to Ohio soon. Media in Ohio such as the Toledo Blade – a paper that was usually kinder towards Debs – slammed Debs saying his speech had made "Disloyal and seditious remarks." Debs received media attention from across the country. The Philadelphia Ledger referred to Debs and his loyal members as "Slackers."
However, not all media outlets described Debs in a poor light. Hostile as well as friendly periodicals of the day commended Debs for the fearless spirit which he had shown during the time when his case was before the courts. The New York Times said of his conduct at the time, "Unlike nearly all the rest of his fellow-believers, who are lions on the platform and mice in the court, he did not…seek loopholes. He had the courage of his convictions. He challenged the law and the challenge has been met." For Debs, there was no escaping the attention whether positive or negative and that is exactly how he wanted it.
After completing his Indiana speaking tour, Debs decided it was time to return to Ohio. He arrived in Cleveland, Ohio where was scheduled to speak. Here he was arrested because of his statements in Canton. However, he was determined to be arrested on his own terms. He went to a fourth-class hotel and registered incognito. That evening he went out for a walk. By his own testimony he was nervous and excited by that time. By the next day he had made up his mind to let the authorities arrest him, so he went to his regular hotel and registered. In a very short time, things began to move. His friends took him for a car ride. Their car was followed by officers and the warrant for his arrest was served on a side street in Cleveland. It was Sunday, June 30th, and the authorities refused to open the offices to let him pay bail. Thus, for the second time his life, Debs was imprisoned.
Debs considered his night in the Cleveland jail to be an experience thoroughly worthwhile. He was put in the same room with a number of other prisoners and they fraternized together. In fact, they made so much noise that the authorities decided the he should be put in a cell in another part of the jail. Debs declared with grim humor that public officials always blundered when dealing with him. In this case, they had evidently forgotten that he might corrupt the bums.
The trial in Cleveland was short and simple. Beginning on September 9, 1918, Debs was brought up on the charges of violating the Espionage Act. Debs encouraged the legal system to work itself out, and for a fair trial to be had. Debs proclaimed that he should be "Judged by his own words, by his own words condemned". Though lawyers represented him, he asked that they not call up any witnesses for his defense. Instead, Debs would defend himself. Debs said in the courtroom, "I may be sent to prison by the powers of militarism, but they have not the power to conquer the power you now possess. My message from behind the prison bars will be all the more powerful. I would much rather be a man in jail than a coward outside of it." Debs seemed to be at no one's mercy during the series of events that had taken place. Every step of the way, Debs understood the consequences of his speech, and the consequences in the courtroom. He denied nothing. Debs admitted to the jury that the prosecution was correct in its charge that he favored the Bolsheviki of Russia. He claimed that the American press had grossly misrepresented them. He compared them to our Revolutionary fathers pointing out, "Washington, Jefferson, Paine, and their compeers were the rebels of their day. When they began to chafe under the rule of a foreign king and to sow the seed of resistance among the colonists they were opposed by the people and denounced by the press…But they had moral courage to be true to their convictions, to stand erect and defy all the forces of reaction and detraction; and that is why their names shine in history, and why the great respectable majority of their day sleep is forgotten graves." Much like Debs, their opponents saw these great men as traitors. But what matters is that they stood for what they believed in. That honest quality, proven by the revolutionaries and by Debs, is usually appreciated much more by later generations.
In his final appeal to the jury Debs went on to say, "I cannot take back a word I have said. I cannot repudiate a sentence I have uttered. I stand before you guilty of having made this speech…I do not know, I cannot tell, what your verdict may be; nor does it matter much, so far as I am concerned."
It was then no surprise that on September 12, 1918 newspaper headlines read, "Cleveland Federal Jury Finds Debs Guilty." The sentencing was to be announced two days later. The maximum penalty on violation of the Espionage Act was 20 years imprisonment and a fine of $10,000 (almost $170,000 in today's dollars). Two days later the papers read, "Debs Gets 10 Years in Pen," along with the fine of $10,000. Other articles such as, "What Did Debs Say?" said, "Ten Years in Jail for a Two Hour Speech! A Day in jail for each four words that he spoke. That must have been SOME speech. He must have said terrible things!"
In Debs' closing statements he said, "The right I exercised at Canton on the 16th day of last June: and for the exercise of that right, I now have to answer to indictment. I believe in the right of free speech, in war as well as in peace. I would not, under any circumstances, gag the lips of my bitterest enemy. I would under no circumstance suppress free speech. It is far more dangerous to attempt to gag the people than to allow them to speak freely what is in their hearts."
Before Judge Westenhaver released Debs he warned him against further anti-war speechmaking and restricted him to speaking in the northern district of Ohio or cities close to Terre Haute. Ignoring Judge Westenhaver's edict, Debs asserted in numerous addresses that the Espionage Act was un-American and that "common people" gained nothing from war. Federal authorities sent the Department of Justice a copy of his Toledo speech, delivered nineteen days after the Armistice. Toledo Socialists protested that the war had ended, the lecture could not be considered as interfering with the military. Debs would not be silenced in Ohio until he was put behind bars.
In April 1919 Debs, by his own discretion, reported back to Cleveland, Ohio to be transported to the Atlanta Penitentiary where he would serve his term and where he would become Convict Number 9653. A large crowd of people gathered around the train in which he left Terre Haute, supporting and cheering him on. His humor did not desert him on his way to prison. A fellow traveler told him that he was going to Canton, Ohio, and asked him if he had ever been there. Mr. Debs replied, "Oh yes, I made a speech there once."
Because of the mixed feelings towards the war, the American public began to sympathize with Debs, and urged his pardon. Despite a recommendation for clemency, President Wilson – who prided himself upon being a liberal – refused to pardon Debs. He even went so far as to declare that as long as he was Chief Executive Debs would remain in jail. To this Debs responded: "It is Wilson who needs a pardon from the American people, and if I had it within my power, I would grant him the pardon that would set him free."
Indeed Debs did make a bid to take over President Wilson's job by running his presidential campaign from jail, in the 1920 election. Debs threw his hat into the ring for the final time. Because of the policies that come along with being convicted for violating the Espionage Act, Debs' was disenfranchised for life, and his citizenship was revoked. Regardless, Debs, as he had proven time and time again, was running not to win but to make a point. Despite his restrictions, Debs still gathered 913,693 votes, which equaled almost six percent of the total vote.
In March 1921, after Debs had served about three years of his term, Warren G. Harding succeeded Wilson in the White House. On Christmas Day of that year, President Harding released Debs from prison. Though Debs was released he was not fully pardoned or restored to full citizenship.
For the remainder of Debs' life he resided in Indiana, occasionally doing speaking tours, speaking out as he always had. Only five years after his release from prison, Eugene Victor Debs died on October 20, 1926 at age 71. Working people throughout the world honored Debs' name. In Madison Square Garden in New York, a huge meeting paid its respects to the memory of Debs.
Though the events in Eugene Debs's life from 1918-1921 truly transformed political behavior of his time, the effects of his actions are never more obvious than in today's society. In fact, it seems the average politician is not truly considered a force unless they are willing to speak out against some of the world's most crucial topics. Not to mention the incredible importance placed on coming to Ohio during election campaigns. Debs was a starting point for so many political trends that seem merely commonplace today.
One last important fact to consider in Debs' transformation of third-party politics is his talent as an orator. Like many politicians of the time such as Theodore Roosevelt and William Jennings Bryan, Debs utilized his speaking skills. Though few recordings exist of Debs speaking, Debs was known as a great orator with a loud and booming voice. One Detroit paper said of his eloquence and his power to interest people in what he had to say that, "There is but one man in the United States that can draw such an audience in Detroit to listen to the discussion of the labor question from the standpoint of the labor agitator, and that man is Eugene V. Debs." Debs took notice of other leaders speaking skills as well. Debs believed in bringing outstanding leaders who were good speakers before the people in support of unpopular causes. In this way, not only did Debs help change politics by his own methods, but he also allowed other smaller voices to be heard through his popularity.
As we know today, a candidate's verbal and speaking skill are always a huge part of whether the public is willing to listen. Debs was one of the first to really use his speaking mannerisms to his advantage.
While the Canton speech can be viewed as a turning point in bold third party politics, Debs accomplished many things in his lifetime. Debs witnessed the effects of popular political action as well as third-party movements on the older political parties. And he saw flowing from such political activity the adoption of woman suffrage, passage of workingmen's compensation laws, steps toward the abolition of child labor, and the popular election of United States senators.
His affects were felt long after his passing. It was not long after Debs died that the people won other battles which he and his comrades fought for. For example, militant industrial unions would open to all workers regardless of sex, color, creed or craft. Debs' effects on society are not restricted to the third-party movement alone, but on all types of movements. Reflected here however, is the contribution Debs made to the third-party – almost unknowingly. Regardless, none gave more to the movement than Eugene Debs.
So we arrive back at the original question. How was third party politics transformed by Eugene Deb's Canton speech in 1918 in Ohio? The hope is that the details supplied here through past writings, quotations, and resources answer the question by themselves. No third-party political figures sacrificed themselves the way Debs did in Ohio. No third-party candidate, or major party candidate for that matter, truly utilized Ohio the way Debs did. No candidate before Debs used his voice to command listeners the way Debs did. The debates and fights over freedom of speech, United States involvement in the world, and social change are no longer taboo and politically incorrect for any member of any party to discuss. These topics are fair game, and these topics are crucial. As an old man, Eugene Debs knew the sacrifice he had to make in order for change to occur in this country. He made those sacrifices, and now because of those sacrifices, third-party politicians in the United States have a stronger voice, receive more attention, and can make a difference.
Work Cited:
Morais, Herbert M. Gene Debs: The Story of a Fighting American. International Publishers, New York,
1948. Pg. 59
Currie, Harold W. Eugene V. Debs. Twayne Publishers, United States, 1976. Pg. 17
Ibid. Eugene V. Debs. Pg. 23
Brommel, Bernard J. Eugene V. Debs: Spokesman for Labor and Socialism. Charles H. Kerr Publishing
Company, Chicago, 1978. Pg. 30-36
The New York Comrade, Speeches of Eugene V. Debs. New York: International Publisher, April 1902.
Ibid. Eugene V. Debs. Pg. 30
Ibid. Gene Debs: The Story of a Fighting American. Pg. 67
Debs, Eugene V. The Situation in Ohio. The Ohio Socialist, Cleveland. Whole No. 50, January 8, 1919.
8 Morgan, H. Wayne. Eugene V. Debs: Socialist for President. Syracuse University Press, New York, 1962.
9 Ibid. Gene Debs. Pg. 80
10 Ibid. The Situation in Ohio.
11 Ibid. Eugene V. Debs. Pg. 162
12 Painter, Floy Ruth. That Man Debs and His Life Work. Kessinger Publishing, 1962. Pg. 115
13 Ibid. Gene Debs. Pg. 104-105
14 Ibid. That Man Debs. Pg. 115
15 Personal Interview. Eugene V. Debs, at Terre Haute, Indiana, August 26, 1925. Scott Nearing in his
pamphlet, The Debs Decision (New York, 1919), Pg. 15
16 Tindall, George Brown. America: A Narrative History. Norton and Company, New York, 1999. Pg.
1141
Debs, Eugene V. Canton Speech. Socialist Party of the United States. Chicago. 1918. Pg. 18
Ibid. Canton Speech. Pg. 16
Tumulty, Joseph P. Woodrow Wilson as I Knew Him. Garden City, 1921. Pg. 505
Ibid. That Man Debs. Pg. 118
Toledo Blade. "Government Inquiring Into Address at Ohio Socialist Convention." 17 June 1918.
Philadelphia Ledger. "Eugene Debs Goes On Trial Today." 8 September 1918,
New York Times. "The Case of Debs." 12 March 1919.
Ibid. That Man Debs. Pg. 119
Ibid. That Man Debs. Pg. 119
Debs, Eugene V. Debs and the War: His Canton Speech and His Trial in the Federal Court at Cleveland,
September 1918. Chicago: National Office Socialist Party, 1918. Pg. 49
Ibid. "Eugene Debs Goes On Trial Today."
Ibid. Debs and the War: His Canton Speech and His Trial in the Federal Court at Cleveland,
September 1918. Pg. 37
Ibid. Debs and the War. Pg. 39
Toledo Blade. "Cleveland Federal Jury Finds Debs Guilty." 13 September 1918.
Toledo Blade. "Debs Gets 10 Years In Pen." 14 September 1918.
Ibid. Debs and the War. Pg. 39
Ibid. Eugene V. Debs. Pg. 155
Karsner, Debs Goes To Prison. New York: Pamphlet, May 1, 1919. Pg. 58
Ibid. Gene Debs. Pg. 116
Ibid. Gene Debs. Pg. 125
Detroit Times. Eugene Debs Flays Capitalists in a Stirring Address," 12 January 1906.
Ibid. That Man Debs. Pg. 13
Ibid. Gene Debs. Pg. 125
Comments