My Poems 10
---
Winter Fugue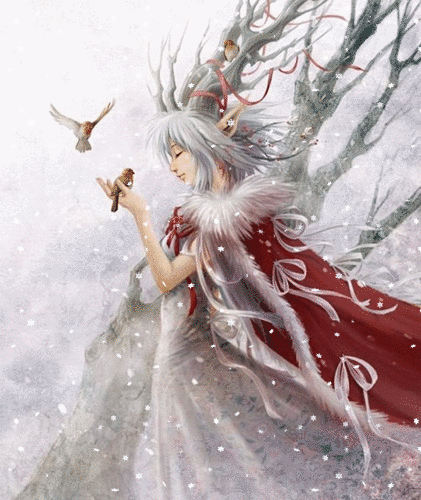 Don't keep me up all night, my soul, don't keep me up all night
Under the breeze and falling snow my hands for you do part
My lips for you do part, my soul, in the most welcomed night
The most welcome night is laying silent at my thighs
Lying silent, like a grave steeping itself in me
In me, so I become the night layering in me
Layering in me like waves and sediments of touch
Like sediments of touch that weigh and vibrate so much
Vibrating, like a falling snow, like water spurn
In the middle of the tine, and so it makes it run
Running like a steam from hot pot, and like smoke from fire
Like a moan from open lips rounded with desire
But don't keep me up all night steaming and obsolete
For the time is rather melting on my fallen gates.
...
I wrote this some years ago and set it to a simple minor guitar arrangement, every stanza the same; "/" is one down, "V/" up-down-up:
Ballad of the Fall
Am // / V / / / Dm V/V/V/
There is blood in my footsteps
Dm // / V/ / / Am V/V/V/
There is wind in my wings
Am // / V/ / / E7 V/V/V/
There is dust on my eyelids
E7/ / /V / / / Am V/V/V/ /// 3 separate down arpeggios.
It's getting harder to breathe.
Long and stony was the road
Damp and dark was the night
Desp'rate and cruel the battle
That took me out of the light.
Now my last thought is for you, dear
Remember the way that I was
When gentle eve comes upon you
Feel my embrace in the dark.
I see the ground is near
I know the time will not stop
My last heartbeat is for you, dear
As long as a heartbeat can last.
...
Ballad for the Running
E7/ / / / / Am/ / / / / Dm / / / / / / / /
Why are you crying, my love, why are you crying /crying, crying,crying/
Dm/ / / / / Am/ / / / / Dm // / / / / / /
My heart is dying, my soul, my heart is dying /dying, dying, dying /
Ditto
Why are you running, my love, tones are rolling /rolling, rolling, rolling/
It is the road, my heart, the road is calling /calling, calling, calling/
Dm/ / / / / / Am / / / / / / / E7 /
It is the time and the space, it is the roam and the race
E7/ / / / / / Am/ / / / / / / E7 /
It is the window in pie - ces, blood on my face
Ditto
It is the terror and awe, it is the high and the low
It is the time that is eating, ta -king us all.
Why are you crying, my heart, take it and burn it
I cannot do that my love, my soul is turning
Why are you running, my heart, break it and throw it
I cannot do it, my soul, my nature is calling.
It is for now and later, it is the fleeting momentum
It is the time that is giving and taking it all.
And in my moments alone I'll still remember it all
The pain of the living an being and having it all.
...
Elemental
Al elements in us together bind -
That's why we can never stay in calm
For ice and fire, storm and dust can't lay
Nor rain and waves can down quiet stay.
All elements play in a a humans' make
The dust we are - star light in static lake -
That weaves in our nerves and skin and hearts
That look from the windows of our eyes.
All elements in us to be are found
All elements that in each other are bound
So we've no choice, but inside out be bend on
And being in our core most elemental.
For every cube of ice - a brand of fire
For every ray of light - dark shade to bind her
For every stone there is a feather
Dry desert ocean covers all together.
For every thought in me there is one in you
For every part of me - one in you too,
And so the time will ride and nature stir
Why all the elements in us take turns.
...
Dawn
A miracle in front of me happens everyday
The Sun is born in bloody rays
From sky and clouds, air and time
They push the sun before my eyes
Convulsing sky and cloud folded
Like woman's legs - to bring life forth
A scream is heard with voice of wind
And one more day is born to be.
One more day - one more try.
One more shot, in passing by
With hundreds hello-s and good-byes
With hundreds choices, far and nigh.
With hundreds trials, hundred touches
Losses, gains, fights and rushes
Until the day exhausted dies -
A spent wizard in disguise.
Wasted, tired, turned to dust
From billions peoples' intense rush.
Every Day by Blood Dawn is born
It costs her mush to bring it forth.
And I know what the wind is screaming
While the day is slowly appearing
Like woman in a labor toll -
"Don't dare to waste my Day!
For it is paid in blood and pain!" -
Nature cries her will to all.
...
"Samodivi", by Plamen Stoev, a Bulgarian artist
Samodivi are magical women with aethereal bodies who live in the dark forests of Stara Planina /Old Mountain, or as better known with it's Turkish name 'the Balkan/. They protect the waters and command them, and one can see them at night, dancing away with the time
Dancing through the time and space
While the rest of human race
Sleeps in their big soft beds
Dancing - dancing - fire-led
Sparkling water, dancing dance
and behind their closed eyes
One can see the time does pass...
In a minute - years goes
In an hour - century slows
They command the time in theirs
Wild long curls, and it is theirs -
Moiras are their mothers called -
Samodivas - know them all -
They were given by the Fates
Gift that no one dares to test -
Mistresses of forests dark,
They spin leaves and heal tree bark
And to every forest creature
They apply one dose of each of -
Touch of feather, for body-lightness,
Bite of apple - for long lives is,
Twig of willow - grace to all -
In the body and the soul,
An caress for every Bug,
And a kiss for every Slug,
And a hug for every Deer,
Soft caress for all that're near -
Samodivas - Sisters Wild,
Sisters Tender to every child
Of Mother-Nature, and to all
That are subject to mortal thrall.
But to humans that seek to harm them,
They are cunning to abandon -
In the dance they are seducing,
In a trance they are confusing,
So a man who wants a piece
Find himself into their midst -
In the middle of the dance,
In the eye of stormy trance,
Round him soft bodies glow
Like clouds changing their goal -
Graceful feet the soil just touch -
Gut the speed - it goes too much -
They are dancing in a circle,
They are sliding, merging, soothful
Hands the air touch and kiss -
And the man is all amiss -
He doesn't know where to look -
He tries to keep up his tired foot -
To exhaustion he spins himself -
Terror comes to him - and end...
And the Samodivas dance
In their so eternal trance
Whirling, hopping, sliding, gliding -
Air spins and water rising -
Life and Death the dance is called...
They are the ones to know it all -
Dancing - through the Time and Space
Their endless graceful Race.
...
I know a Fire-Mare
Her name is Flaming Flesh
She runs alone all night long
While I sleep in my bed
Her legs are light and springly
Her mane is orange burned
Her hooves dig salty oceans
Wherever they do turn
Her speed is all that matters
Her flight is all she knows
She's eating miles and chewing
On Distances and Times.
I know my Fire Mare
But never when awake
For she for me is coming
When I am gone to bed.
She muzlles my with soft nose
She claps a hoof three times
And my shadow is ready
To jump on her arched back.
Then I hug my Fire Mare
She turns and flees away
Of me she is aware
Impossible to stay.
All night my mare is running
All night on her I cling
Until I am her stare
Until she is all me.
And when the Dawn is waking
And it's time for me to go
It hurts to pull from my mare
And away from her to go -
For she is my Wild Shadow
For she is my Live Breath
My airy companion
My Night Being - my best.
Comments