The Long Run Economic Performance of Ancient Greece
---
This essay is pretty much an organized presentation of information that I have already presented in historum all over dozens of threads.
Modern archaeological research is enabling us to reconstruct the economic performance of the Aegean region from the Late Bronze Age to the Classical and Hellenistic period with a remarkable degree of accuracy. We now know more of the economic performance of the Aegean from 1300 BC to 200 BC than in any other culture of the world dated from before Christ.
Previous conceptions of the economy of Ancient Greece are now being refuted on a daily basis and a new paradigm is beginning to emerge regarding the performance of the ancient economy.
The Aegean in the Late Bronze Age, 1200 BC
The Aegean during this period probably had already witnessed some economic growth. One direct evidence is that the houses excavated in this period by archaeologists show increased size relative to the houses in other ancient and medieval societies: Aegean houses of the 13th century BC had a median size of 76 square meters, from a substantial sample of 50 houses. (1) For comparison, in Egypt at the same time houses of skilled craftsmen, thus above average quality, were 50 to 60 square meters. (2)
Life expectancy was also a little higher than in the next historical period, while male heights were perhaps a few centimeters higher, indicating improved nutrition. I would guess that it is probable, given that in the majority of other ancient and medieval societies houses were 40 to 50 square meters, that living standards in the Aegean during the Late Bronze Age in the 13th century BC were already better than the general levels in other ancient and medieval societies, at least compared to societies such as Early Medieval Europe, the Celtic and Germanic tribes and New Kingdom Egypt.
The Greek Dark Ages
During this period, from 1100 BC to 800 BC, the living standards of the general population declined significantly, all indicators show that, from the indicators of housing and material goods to the indicators of the biological living standards.
House size declined from 76 square meters in the 13th century BC to 43 square meters at the deepest point of the Greek dark ages in the 9th century BC (1), nearly half of the size. Though, the sample of 9th century houses is smaller, at only 12 housing units, reflecting the reduced population densities in Dark Age Greece.
Life expectancy declined significantly as well, as the average height probably declined by a few centimeters. Overall, the picture is of decreased living standards relative to the Bronze Age. The poet Hesiod, in his Work and Days, even commented, at the beginning of the Archaic period, how life in the old days of the Bronze Age was good while life in the Iron Age was bad.
The Archaic and Classical Economic Boom
As it appears in several dimension of the archaeological record, that there occurred a very substantial process of economic and demographic growth from the 8th century BC to the 4th century BC in the Aegean. First let's start with the results on the data on demography:
Population of some Greek sites, according to field surveys:
Koressos on Kea
900 BC to 700 BC - 100
480 BC to 323 BC - 1,020-1,455 (increase of 10.2x - 14.55x)
Southern Argolid
750 - 650 BC - 1,100
480 - 200 BC - 10,855 (increase of 9.87x)
Source: (4)
So field survey evidence shows that there was a massive population explosion in Greece from 700 BC to about 340 BC. Population density grew by a factor of 10 times in the Southern Argolid from ca. 700 BC to ca. 340 BC, an annual rate of increase of 0.64%, higher than in any civilization in the world during the Early Modern period. Also, during this period there was a massive migration to the new Greek colonies in the Mediterranean, which means that the actual population of the Greek civilization increased by an even larger factor, in 340 BC, according to the estimates of Mogens Herman Hansen, 58% of the population of Hellas lived in the Aegean and 42% in the colonies, so if the population in the Aegean increased by 10 times from 700 BC to 340 BC, them the total Hellenic population increased by 17.3 times over these 360 years, a demographic expansion of 0.8% a year over 360 years. A mark of a dynamically expanding civilization.
By the 4th century BC Greece was very densely populated. Some regions were more densely populated than today, such as Boeotia, which had a total population estimated from 165,000 to 200,000 inhabitants in the 4th century BC, compared with 38,000 inhabitants in it's Early Modern peak in the late 16th century, according to the Ottoman census, 42,000 in the 1889 Greek census and 130,768 in the 2005 Greek census.
During this period median house sizes also increased by a huge margin. Indicating a process of demographic growth with increased incomes, in other words, a process of true growth characteristic of modern economies. In ancient and medieval societies Malthusian factors drove incomes: increased population mean't decreasing incomes as there was less land per worker and thus productivity fell. This type of process happened in China during the Early Modern period. The economic boom of Archaic and Classical Greece is remarkable that incomes increased exponentially while population densities also increased exponentially, similar to the process of growth that happened in modern economies over the last two centuries.
Aegean median house ground floor plan size increased by a factor of five from the Early Archaic to the Late Classical period:
7th century BC - 49 square meters
6th century BC - 70 square meters
5th century BC - 149 square meters
4th century BC - 230 square meters
(1)
Also, as the proportion of houses with second floors also increased the median house size including second floors increased even more, by a factor of about 7:
7th century BC - 54 square meters
6th century BC - 88 square meters
5th century BC - 224 square meters
4th century BC - 345 square meters
Based on the estimate of the proportion of houses with second floors from archaeological excavations from (4). Note from the appendix the very strong correlation between living space per person and per capita income. Our data, regarding house sizes, is not a direct indicator of the variation of the living space per person, but is a strong proxy, as Hellenic household size cannot have varied several times.
Besides increasing in size the quality of the houses steadily increased, from simple stone walls and thatched roofs to tiled roofs and mud brick walls, later plastered walls and substantial floors decorated with mosaics. The actual value of the median house in the Aegean probably increased from circa 200 drachmas in the Early Archaic period to circa 2,000 drachmas in the Late Classical period, an increase in expenditures on housing by an order of magnitude. The amount of stuff that archaeologists found inside the houses also increased exponentially: Morris conservatively estimated that the household goods increased at least five times and more probably, also by a full order of magnitude from the 8th century BC to the 4th century BC. (4)
Archaeological indicators of biological living standards also shown substantial improvement, which is impressive considering that increased population densities would facilitate the transmission of diseases and increase the difficulty in proving proteins and calcium required for the growth in body height: in the United States during the 19th century the average adult male height decreased while per capita incomes rose several times. While life expectancy didn't shown signs of improvement from 1800 to 1880. That's because the population became more dense and urban, facilitating the transmission of diseases and reducing the per capita intake of meat and milk, being substituted for more durable food stuffs. Only with the industrialization of milk and meat and with the introduction of modern medicine, antibiotics, sewers that life expectancy and adult heights in the US followed the same trajectory of economic performance. In Ancient Greece this already happened in the Classical period!
Post infant life expectancy based on skeletal data: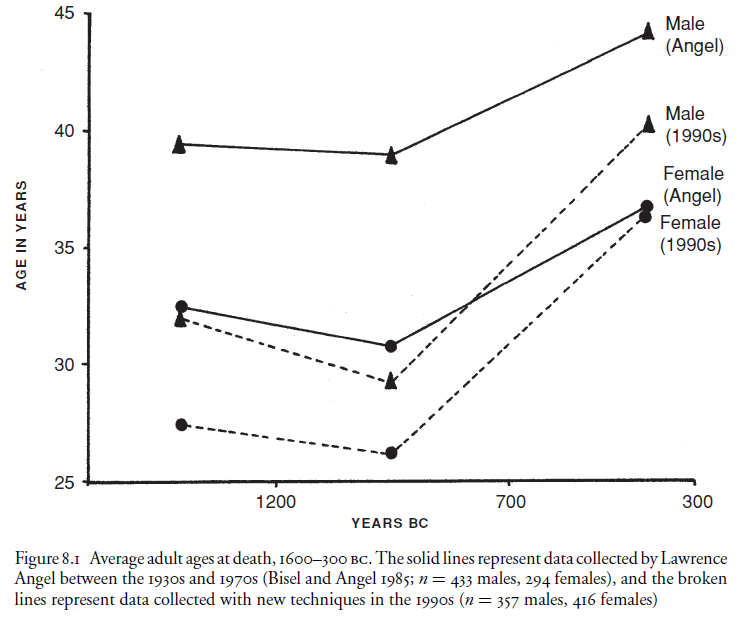 Average height estimated from skeletons: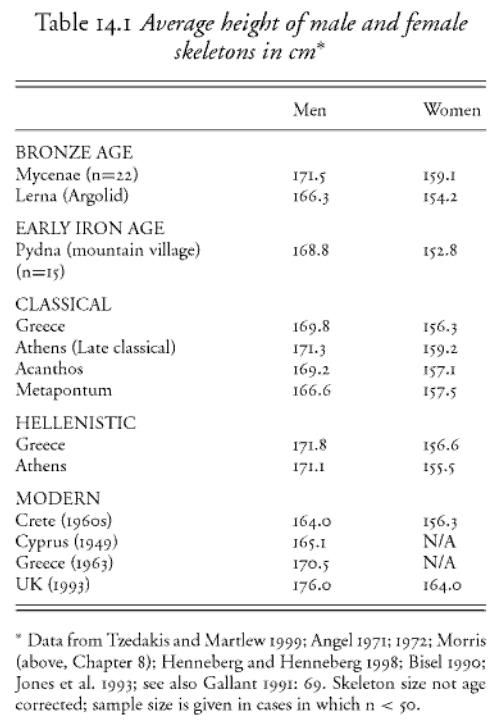 By the Late Classical/Early Hellenistic period, around 300 BC, the Ancient Greek males were a bit taller than the Greeks of the 1960's, 171.8 cm versus 170.5, though they were still 4.2 cm smaller than the British from the 1990's, indicating that standards of nutrition in Classical Hellas were not as good as developed countries in the 1990's, obviously expected: while they were quite advanced for an ancient society, it obvious that it would be impossible for any ancient society to attain similar levels of nutritional standards as those attained in the most advanced modern economies.
Ober has gathered other types of evidence documenting the process of economic growth during the Late Archaic and Classical periods:
Quote:
Originally Posted by (6), page 7
Based on data made vailable in the online version of the Oxford-based Lexicon of Greek Personal Names, I calculate that the number of known (from literary or archaeological sources) names of persons in Attica grew from ca. 1200 in the sixth century to ca. 17,000 in the fourth century, an approximately 14-fold increase over just 300 years. The increased visibility of individuals is obviously the product of multiple variables, notably growing rates of literary and epigraphic production. This high rate of growth in name visibility is consistent with a world in which many more people were consuming substantially more. Counterfactually, a world with a declining population and in most people lived at a level of bare subsistence would clearly be less conducive to rapid growth in the literary and epigraphic visibility of people's names.

Based on data taken from the Inventory of Greek Coin Hoards (Thompson, Morkhølm, and Kraay 1973), David Teegarden and I estimate that the volume of coined money circulating in the Greek world increased substantially as well. Between the sixth and fourth centuries BC, the median size of a Greek coin hoard (an indirect proxy for per capita rather than aggregate growth) roughly doubled, from 23 coins to 48 coins per hoard. Meanwhile, the average hoard size quadrupled, from 52 coins to 213 coins, reflecting the increasing incidence of exceptionally large hoards.15
Number of known Athenians:
7th century BC - 84
6th century BC - 1,186
5th century BC - 5,670
4th century BC - 17,138
Source: (6)
The economic growth of the Aegean also reflected in the overall growth of the Mediterranean Economy and increased the levels of metal pollution in the Greenland ice caps, trends of increasing aggregate economic activity that continued over the Hellenistic and Early Roman periods. By the Late Classical period, however, proxy indicators of aggregate levels of economic activity in the Mediterranean were already much higher than in earlier centuries.
Mediterranean shipwrecks:
8th century BC - 2
7th century BC - 4
6th century BC - 20
5th century BC - 40
4th century BC - 45
source: (7)
The evolution of world lead production during the period considered was driven by the mediterranean economy as outside the mediterranean lead production was insignificant:
8th century BC - 265 tons
7th century BC - 722 tons
6th century BC - 2,254 tons
5th century BC - 6,140 tons
4th century BC - 13,110 tons
Source: (8)
Hellas at it's economic zenith: the 4th century BC
By the 4th century BC the Aegean reached it's point of greatest prosperity. It was transformed from an agricultural economy based on self sufficient production in the 8th century BC to a highly sophisticated market economy by the 4th century BC. The extent of market exchange and the importance of long distance trade can be glimpsed by the fact that according to taxation records, Athens in 402 BC, just after losing the Peloponnesian war, had a volume of trade in it's port of 1,900 talents of silver (9), enough to pay the annual wages of 45,000 laborers and to pay for enough wheat to feed 600,000 people, while Athens at the time had 30,000 citizens and 200,000 inhabitants. And note that wheat was exempt from taxation, so total trade was about 2,200 - 2,400 talents including wheat imports. And Athens was not exceptional in this regard: 10 years earlier an emergency 5% tax was enacted in the Delian league, the amount of trade implied by the tax was 18,000 talents of silver (7), enough money to pay for the wheat to feed 5.5 million people and the population of the Delian league at the time was certainly not more than 2 million.
It is generally estimated that in Late Classical times Athens imported 50% to 75% of it's food supply, while Mainland Greece as a whole imported one third of it's total food supply. (5) These massive imports came from colonies in Magna Graecia, the Black Sea and from North Africa and Egypt. Which imply in a highly sophisticated market economy operating in the Classical Aegean. To pay for these imports the cities in Mainland Greece exported manufactured goods: in the best documented case of Athens, is was estimated that industrial production was at least 4 times as large as agricultural production. (11) The division of labor between Mainland Greece and it's colonies in the Late Classical period was analogous to the late 19th century division of labor between Western Europe and North America and Russia: Western Europe exporting manufactured goods while Russia and North America exported food and raw materials.
Wages in Athens for unskilled workers, at the height of Classical Greece in the 4th century BC, were of 1.5 drachmas per day, considering that wheat was sold at 5 to 6 drachmas per medimnos, using 5.5 drachmas and the fact that a medimnos had 42 kg, means that 1.5 drachmas of wages brought 11.5 kg of wheat. (6)
If we compare Athenian wheat wages for unskilled labor in circa 350 BC to wages in the late 18th century in Europe and Asia the picture is as follows:
Place ------ Wages in kg of wheat*
Athens 350 BC ----- 11.5
Amsterdam ---------- 9.6
England ------------- 7.0
Paris ---------------- 5.9
Madrid -------------- 4.8
Florence ------------ 3.3
Yangtze delta ------- 2.3
India ---------------- 2.3
Japan --------------- 2.3
*converted from rice in the last 3 cases in basis of calorific equivalence
Source for the other wages: (3)
Athenian wheat wages of the 4th century BC were significantly higher than anywhere in the Late 18th century world. While standards of housing in Late Classical and Hellenistic Greece were impressive. We have already seem that their houses increased in total size by a factor of 7 from the Archaic to the Late Classical period. Housing is perhaps the most impressive element in our reconstruction of the economic performance of Classical Greece:
Quote:
Kron, Standards of Living, Wealth: In most pre- and early industrial cultures house rent tends to be the largest expenditure after food, and it has often been used as a proxy for overall disposable income. The ancient world saw a dramatic transformation from the cramped mud and stud cottages roofed with thatch typical of the Iron Age and early Archaic period, the ancient Celts and Germans, or many rural laborers or peasants in 19th century Western Europe, to Classical Greco-Roman housing which was extremely spacious, solidly built, and elaborately decorated. Detached houses for Classical Greece's very broad middleclass of farmers and urban craftsmen and shopkeepers were relatively consistent in size,typically covering more than 200 m with five or more rooms oriented around a central courtyard. Constructed out of mud brick on stone foundations, with terracotta tile roofs,the poorer houses had simple adobe walls and earthen floors, with brick, pebble, or concrete pavements restricted to courtyards or other areas exposed to the elements.Already by the fifth century, if not earlier, however, the walls in many homes began to bewhite washed, plastered or decorated with paintings in fresco, and several rooms,especially those, which would receive visitors, would be floored with simple black andwhite or figured mosaics.
(2)
Reconstructions of houses excavated in the site of Olynthus:
For a typical typical Athenian of the 4th century BC, if he was an unskilled laborer and had to support a wife and two kids, it was not hard actually. To purchase the wheat required for 80% of the calorific consumption of his family he would need 75 to 90 drachmas, or 50 to 60 days of work at unskilled wages, if he works 250 days a year, taking 115 days off during the year, would mean that he would have to spend 20 to 24% of his annual income on wheat, leaving 80 to 76% of his annual income available for other uses. For comparison, a Roman Egyptian unskilled laborer from the 2st century, to purchase the required wheat for a family of 4 would have to work 150 to 170 days, spending 60 to 70% of his income on wheat, leaving a minimum surplus amount. (10)
Living standards in 4th century Aegean were vastly higher to those of Roman Egypt, which is reflected in the housing evidence: houses in Roman Egypt were of only 60 square meters in median size, 4 times smaller than the median size of the 4th century Aegean. (10) The same contrast is seem if we compare Hellas to nearly any other ancient, medieval and early modern society.
According to surviving sales inscriptions, the prices of the 2,500 - 3,500 square feet houses of 4th century Greece were usually 1,500 to 3,000 drachmas (4). Our Athenian unskilled worker would have to work 1,300 days to accumulate 2,000 drachmas to purchase an average home. That would be 5 years worth of wages. For comparison, in the Early 21st century United States the median annual income is 50,000 dollars while the median house price is 230,000 dollars, 4.6 years of the median income. So these houses were perfectly affordable to the common laborer in Late Classical Greece, at least in Athens. According to archaeological evidence, these houses were build to last about 30 years, considering the price of 2,000 drachmas would mean that the average annual cost of a house would be 66 drachmas, about 1/6 of the annual income of a unskilled laborer. So, the costs of wheat and housing for a family of four would be about 40% of the annual income of a unskilled laborer, leaving 60% for "luxury" expenditures. Perfectly reasonable. While unskilled workers in other ancient and medieval societies would have to spend nearly the whole income on wheat/rice and would lack any actual disposable income.
Based on this evidence, in 4th Athens it was estimated that 42% to 58% of the population belonged to a middling class: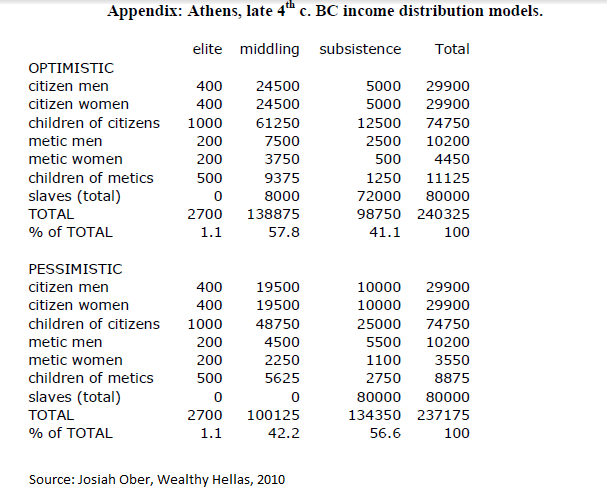 Besides having large and comfortable housing and high wages, at least in Athens, the Hellenes of the 4th century had access to substantial entertainment facilities, such as the hundreds of theaters whose remains survive to this day and even government welfare, such as the welfare payments the Athenian government provided to citizens that were impoverished during the Peloponnesian war.
Besides it's high absolute level of income, Classical Greece was also a very egalitarian society. Estimates of the distribution of wealth among citizens in 4th century Athens give it's Gini coefficient
lower
than the United States today as about the same as Canada. The distribution of wealth in Athens was much more egalitarian than in England during the 19th and early 20th century and than in other pre-modern societies. (12) The impressively uniform size of the houses in archaeological sites also points out to a highly egalitarian society.
The huge cultural influence of Classical Greece over other ancient cultures was probably as much as a product of it's economic success as any other factors. Like American culture today, Hellenic culture transmitted itself though the known world. Usually this process can be understood as being caused by societies copying the more successful ones. Other Mediterranean cultures were thoroughly hellenized, which the most obvious example being the Romans from central Italy. The influence of Hellas on the culture of modern Western Civilization is perhaps the ultimate legacy of it's economic success: without such economic success I don't think that the civilization of a tiny region such as the Aegean would have been able to spread it's culture over the entire ancient world and change the course of world history forever.
In conclusion in regards to economic performance, it appears to me that the Late Classical/Early Hellenistic Aegean & colonies was perhaps the most affluent society in human history until the 19th century.
Sources:
(1) The Cambridge Economic History of the Graeco Roman World, 2007
(2) Kron, Standards of Living, Wealth, The Encyclopedia of Ancient History, 2011
(3) Broaberry & Gupta, The Early Modern Great Divergence, The Economic History Review, 2005
(4) The Ancient Economy: Methods and Problems, 2007
(5) Mogens Herman Hansen, The Shotgun Methods: The Demography of the Ancient Greek City State, 2006
(6) Josiah Ober, Wealthy Hellas, 2010
(7) Morris, The Athenian Empire, 2005
(8) S. Hong et al., Greenland Ice evidence of hemispheric lead pollution, Science 265 (1994)
(9) Mogens Herman Hansen, Polis, An Introduction to the Ancient Greek City State, 2006
(10) Bowman & Wilson, Quantifying the Roman Economy, 2009
(11) Amemiya, Economy and Economics in Ancient Greece, 2007
(12) Kron, The Distribution of Wealth in Athens in a comparative perspective, forthcoming
Appendix
Average areas of the first floor plans of houses from Classical and Early Hellenistic archaeological sites:
Athens: 100 to 200 square meters
Kasmenai: 156 square meters
Chersonesos: 158 square meters
Thasos: 175 square meters
Halieis: 175 square meters
Kamarina: 204 square meters
Priene: 207 square meters
Abdera: 212 square meters
Metapontion: 215 square meters
Selinous: 220 square meters
Kassopa: 225 square meters
Taras: 238 square meters
Peiraeus: 240 square meters
Himera: 256 square meters
Miletos: 260 square meters
Horraon: 270 square meters
Kroton: 289 square meters
Olynthos: 294 square meters
Dura Europus: 311 square meters
Living space per capita and income in modern countries:
country ---- living space square meters ----- income (data from IMF 2011)
Luxemburg ------ 65.9 --------------------- 80,119
Denmark -------- 53 ----------------------- 37,152
Austria --------- 50.4 ---------------------- 41,822
Sweden -------- 43.6 ---------------------- 40,394
Germany ------- 41.3 ---------------------- 37,897
Spain ---------- 36.4 ---------------------- 30,626
Italy ----------- 32.9 --------------------- 30,464
Poland --------- 22.9 ---------------------- 20,334
Russia --------- 22.4 ---------------------- 16,736
Hungary ------- 20.0 ---------------------- 19,591
Bulgaria -------- 14.6 ---------------------- 13,597
Romania -------- 14.1 --------------------- 12,476
India ----------- 9.7 ------------------------ 3,694
Graph:
The correlation is very strong, supporting the relevance of house sizes as a measure of changes in living standards.
Comments