Was Western Europe wealthier than China before the 19th century?
---
Some have argued that Europe was not wealthier than China at the eve of the industrial revolution, circa 1800 AD, that only after this date that Europe pulled ahead of China. It is also argued that before 1800 AD all societies had similar living standards and that only after 1800 that divergences in standards of living emerged. Well, we need to collect empirical data to verify such claims.
First, we start by with a quote of Adam Smith, from the late 18th century and thus before 1800 AD showing that living standards could indeed vary greatly between countries already before the 19th century which already refutes the second assertion:
Quote:
Originally Posted by Wealth of Nations, page 16-17
Observe the accommodation of the most common artificer or day labourer in a civilized and thriving country, and you will perceive
that the number of people, of whose industry a part, though but a small part, has been employed in procuring him this accommodation,
exceeds all computation....I say, all these things, and consider what a variety of labour is employed about each of them, we shall be sensible that, without the assistance and cooperation of many thousands, the very meanest person in a civilized country could not be provided, even according to, what we very falsely imagine, the easy and simple manner in which he is commonly accommodated.

Compared, indeed, with the more extravagant luxury of the great, his accommodation must no doubt appear extremely simple and easy; and yet it may be true, perhaps, that the accommodation of an European prince does not always so much exceed that of an industrious and frugal peasant, as the accommodation of the latter exceeds that of many an African king, the absolute masters of the lives and liberties of ten thousand naked savages.
Adam Smith quote shows that even before the industrial revolution we already had societies whose economic systems had already attained a very complex division of labor and thus attains a much higher level of productivity than other societies. Thus, there were already significant differences in living standards between countries before the 19th century. Now let's verify if there were difference in living standards between Europe and China before 1800 AD.
1. Unskilled Wages
Wages for labor are very useful for gauging relative levels of development. That's because wages are fundamentally determined by the marginal product of labor, which is higher in more developed economies: labor is more productive in more developed economies and thus the amount of money that you are willing to pay for labor increases as the returns of labor increases. And wages for unskilled labor are a better indicator of development than wages for skilled labor. Since skilled laborers tend to earn much higher wages relative to average incomes in less developed economies: In Brazil the wages for skilled laborers is not smaller than in the USA, while the wages for unskilled labor are several times higher in the US. That's because poorer countries have lower amounts of human capital, since skilled laborers are the ones which have human capital, therefore their pay is inflated in economies where human capital is scarce. So wages for unskilled labor should be the our proxy measure of development.
Grain represented the overwhelming largest expenditures of the pre-modern average laborer. That applies to almost any case, so let's start by comparing wages measured in terms of this fundamental good.
Wages for unskilled labor in China were 3.0 kg of rice (4.5 kg of wheat in calorific equivalence) in 1550-1600 AD and 1.5 kg of rice from 1750-1800 AD (2.25 kg of wheat in calorific equivalence), in average 2.25 kg of rice, or 3.35 kg of wheat. In terms of silver they were 1.5 grams of silver in 1550-1600 AD and 1.2 grams of silver in 1750-1800 AD, average is 1.35 grams of silver. (1)
Wages for unskilled labor in Early Modern Europe had great variation:

(1)
However, by the late 18th century, the lowest wheat wages in Western Europe were 3.30 kg, about the same as the average wages of China for our two data points. And 50% higher than the wages of late 18th century China. Wheat wages in late 18th century Antwerp, Netherlands, were
4 times
higher than late 18th century Chinese wheat wages.
Overall it appears that wages in terms of wheat were usually much higher in Early Modern Europe than in East Asia. Japanese wages from 1500 AD to 1850 AD averaged 1.73 kg of rice, or 2.6 kg of wheat and varied from 2.25 kg to 3.00 kg. European wages usually varied from 5.0 kg to 10.0 kg during the 1500 AD to 1800 AD period, the lowest unskilled wage in Early Modern Europe, in late 18th century Florence are still higher than the highest wages in any point of the Japanese series. European wages were usually 3 times higher than the Japanese wages in terms of wheat, a difference of real incomes comparable to the difference in incomes today between Germany and Romania.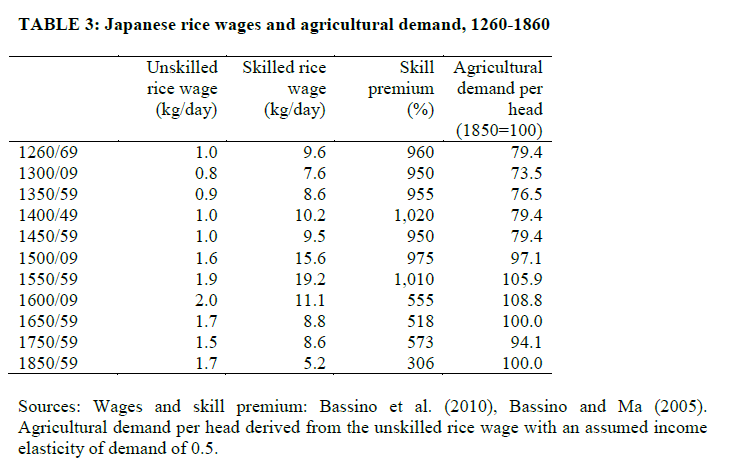 Using a larger set of commodities than wheat/rice to calculate wages, Allen et al have reached similar conclusions:
Quote:
Originally Posted by Broadberry (2)
Allen et al. are able to provide real consumption wages for China, Japan, and India as far back as 1738 in some cases, and to compare them with the more abundant data for Europe. The comparison of living standards is based on the calculation of the cost of a subsistence or 'bare bones' basket of goods in the different countries, which is used to calculate 'welfare ratios'. The welfare ratio is defined as the number of bare bones baskets of the consumption good that could be purchased by the daily wage of an unskilled labourer. Whereas the welfare ratio was around four in early eighteenth-century London, it hovered around one in the Chinese cities of Beijing, Canton, and Suzhou/Shanghai, and also in Japan and India. In Asia, then, wages were barely sufficient to support a family at even the most basic level of living standards.
So, considering wheat wages and also a larger basket of goods the most advanced major cities of Europe, the cities in the Netherlands and the UK, had real wages four times higher than in the main Chinese cities, indicating a difference in development between the Netherlands and the UK in 1800 AD relative to Qing China comparable to the difference in incomes between Germany and Jamaica today.
Measured in terms of silver, the international monetary standard of the day, the difference between East Asian and European wages is even greater. Silver wages in Amsterdan were 9.2 grams of silver in 1750-1800 AD, in Southern England, 8.2 grams of silver, and in Paris and Madrid, 5.2 grams of silver. (1) In China they were 1.2 grams of silver, 5-8 times lower. This high difference in silver wages, higher than the difference in wheat wages, is the product of the Balassa-Samuelson effect (5). Since Europe was richer than China, wheat prices were higher in Europe (see the wikipedia page section 1 - Theory for an explanation of the Balassa-Samuelson effect) and thus the difference between wheat wages and silver wages. Prices between Europe and China were different by a factor of two, today such difference in prices
The great economist Adam Smith had already observed the differences in prices between Europe and China:
Quote:
Originally Posted by Wealth of Nations, page 37
Half an ounce of silver at Canton in China may command a greater quantity both of labour and of the necessaries and conveniencies of life, than an ounce at London.
He also observed the difference in silver wages in China. Also, Adam Smith observed too the differences in real wages in China and Europe and the relationships of wages and living standards of the population:
Quote:
Originally Posted by Wealth of Nations, pages 64-65
China has been long one of the richest, that is, one of the most fertile, best cultivated, most industrious, and most populous, countries in the world. It seems, however, to have been long stationary. Marco Polo, who visited it more than five hundred years ago, describes its cultivation, industry, and populousness, almost in the same terms in which they are described by travellers in the present times. It had, perhaps, even long before his time, acquired that full complement of riches which the nature of its laws and institutions permits it to acquire. The accounts of all travellers, inconsistent in many other respects, agree in the low wages of labour, and in the difficulty which a labourer finds in bringing up a family in China. If by digging the ground a whole day he can get what will purchase a small quantity of rice in the evening, he is contented. The condition of artificers is, if possible, still worse. Instead of waiting indolently in their work-houses for the calls of their customers, as in Europe, they are continually running about the streets with the tools of their respective trades, offering their services, and, as it were, begging employment. The poverty of the lower ranks of people in China far surpasses that of the most beggarly nations in Europe. In the neighborhood of Canton, many hundred, it is commonly said, many thousand families have no habitation on
the land, but live constantly in little fishing boats upon the rivers and canals. The subsistence which they find there is so scanty, that they are eager to fish up the nastiest garbage thrown overboard from any European ship. Any carrion, the carcase of a dead dog or
cat, for example, though half putrid and stinking, is as welcome to them as the most wholesome food to the people of other countries.

Marriage is encouraged in China, not by the profitableness of children, but by the liberty of destroying them. In all great towns, several are every night exposed in the street, or drowned
like puppies in the water. The performance of this horrid office is even said to be the avowed business by which some people earn their subsistence. China, however, though it may, perhaps, stand still, does not seem to go backwards. Its towns are nowhere deserted by their inhabitants. The lands which had once been cultivated, are nowhere neglected. The same, or very nearly the same, annual labour,
must, therefore, continue to be performed, and the funds destined for maintaining it must not, consequently, be sensibly diminished. The lowest class of labourers, therefore, notwithstanding their scanty subsistence, must some way or another make shift to continue their race so far as to keep up their usual numbers.
Overall, the evidence of the wages and prices is quite clear: By 1800 AD wages in China and in East Asia in general were significantly lower than European wages in real terms and several times lower than in the most prosperous parts of Europe, such as England and the Netherlands.
2. International trade
Maddison (3) has showed that already in 1470 AD, European countries had the majority of the world's merchant fleets: 220,000 tons of merchant shipping capacity compared to about 100,000 tons of the aggregate total of all of Asia. Maddison has roughly estimated that from 1470 AD to 1780 AD, the merchant shipping tonnage operated by Asians didn't change significantly, fluctuating around 100,000 tons while European merchant fleets grew steadily in size, reflecting the gradual dominance of Europe of the rest of the world, by 1570 AD, European merchant shipping capacity was already 570,000 tons, increasing to 1,350,000 tons in 1670 AD and to 3,800,000 tons in 1780 AD. So by the end of the 18th century, European merchant fleets consisted of 97.5% of the world's total, while 300 years earlier they already consisted of 2/3 of the world's total.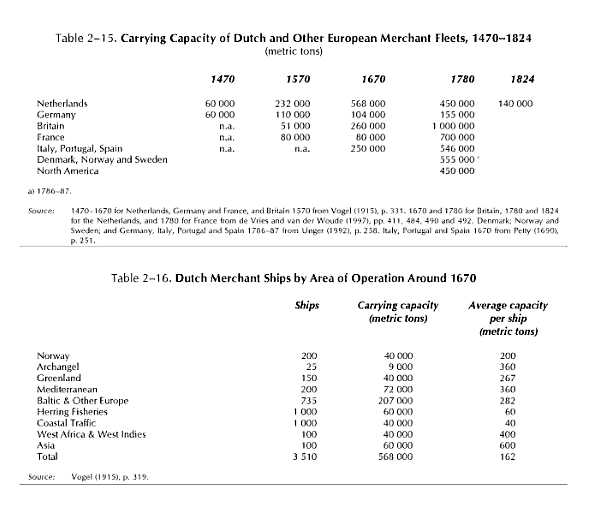 Before the 19th century the only cheap way to transport goods was though the seas, as the railroad that allowed cheap transport by land was invented in the 1830's. So, larger merchant fleets imply in a larger volume of long distance trade which implies in a higher degree of division of labor, thus a higher degree of economic sophistication and thus, productivity. This is verified empirically: The Netherlands was the country with the largest merchant fleet in proportion to it's population during the 16th, 17th and 18th centuries and was also the richest country in Europe during the same period.
Also, for the whole Early Modern period the bulk of the world's merchant fleets were European and also the bulk of the trade occurred inside Europe or with the colonies in the Americas. For example, Dutch merchant ships engaged in Asia and Africa consisted of 16% of all tonnage while 84% was allocated to Europe and the Atlantic.
Thus also suggesting that Europe was economically more sophisticated than any other region of the world during the whole Early Modern period and that the difference between Europe and the rest of the world only increased with time.
And I can only add that Chinese international trade was small during the whole Early Modern period, as with the rest of Asia: in the 17th century the Netherlands operated 60,000 tons of merchant shipping in Asia and over 400,000 tons in Europe and the Atlantic, while domestic Asian merchant fleets were 100,000 tons, so the Dutch merchant fleets alone conducted more long distance trade in Europe than there was long distance trade in the whole of Asia. The few luxury commodities produced in small quantities in a few workshops here and there and exported to Europe didn't represent a large degree of commercial integration. In fact, only in the 20th century that commercial integration in Asia attained comparable degrees to those of the 17th century Netherlands. Overall, suggesting in lower levels of division of labor and thus economic complexity and development in China if compared to Western Europe.
3. Metallurgy
According to (4), Qing China produced 130,000 tons of iron per year in 1800 AD, and China had a total population of 350 million. Implying in a per capita output of 370 grams. For comparison, France in the 1781-1790 period produced 141,000 tons of iron per year, while England produced 69,000 tons of iron per year. (7) France's population was 27 million in the 1780's, England's was 9 million, implying in a per capita level of iron production of 5,220 grams and 7,670 grams. So
French levels of iron production per capita were already 14 times higher than Chinese levels
in the end of the 18th century, while
British levels of iron production per capita were already 21 times higher than Chinese levels.
Note that the French economy of the late 18th century was not above the Western European average, in fact, it was slighly poorer than the average according to Maddison's estimates (3), thus suggesting that Western Europe as whole consumed much more iron already in the late 18th century.
The consumption of metals had and still have a very strong correlation with development. Though in the last decades with the banalization of steel production technology, the producers of steel became the third world countries. However, in the 1960's there was still a near perfect correlation between metal production and income. Today there is still a strong correlation, though it is far from the near perfect levels of 40-50 years ago. A 14 fold difference in metal production per capita was the difference between the US and Brazil in the 1960, when Brazil had 70 million inhabitants and produced 2.5 million tons of steel, while the US had 180 million inhabitants and produced about 100 million tons of steel, the same difference between France and China in the late 18th century.
Therefore, the data above also suggests, as all the data that we have analysed up to this point, that Western Europe was significantly more economically developed than China in the late 18th century.
4. Tax Revenues
Tax revenues are a good proxy indicator of wealth of a country. As governments are an organization that covers the whole territory and taxes the whole produce of the country. Wealthier countries have governments with higher tax revenues while poorer countries have governments with lower tax revenues. Indeed, in modern countries the correlation between income per capita and tax revenues per capita is very strong:
Country --- taxes per capita --- GDP per capita
Netherlands - 16,789 ---------- 42,183
Germany ---- 15,386 ---------- 37,897
Italy -------- 12,977 ---------- 30,464
Hungary ----- 7,307 ----------- 19,591
Poland ------- 6,873 ---------- 20,334
Russia ------- 6,175 ---------- 16,736
Romania ----- 3,506 ---------- 12,476
Guatemala --- 603 ------------ 5,070
India -------- 654 ------------ 3,694
*Taxes and incomes per capita in dollars.
So, how were taxes per capita in the 18th century world? Did China attain similar levels of taxation revenues per capita as European countries? These are the per capita taxes of major European countries and China:
Per capita taxes in grams of silver, 1750-1800 AD annual averages:
Netherlands - 171 grams
England - 158 grams
France - 66.5 grams
Spain - 63.1 grams
Russia - 21 grams
Ottoman empire - 12.9 grams
Qing China - 4.2 grams
(8)
Measure in the standard international unit of exchange, Chinese per capita taxes were the lowest in the sample, and lower by multiple times than the second lowest country. Suggesting that China in the late 18th century was not only poorer than Western European countries, but also too less developed than the Russian and Ottoman Empires.
When measured in terms of wheat the ranking between countries doesn't change (I lack data regarding the prices of wheat of the Russian and Ottoman Empires):
Country --- wheat taxes per capita kg
Netherlands- -- 178.1
England ------- 133.6
France -------- 75.3
Spain --------- 58.2
China --------- 8.5
Notice that as wheat prices were lower in China by a factor of two, reducing the difference in per capita taxes, but still preserving a large margin of difference. This is the Balassa-Samuelson effect at work: the difference in nominal tax revenues between a rich country and a poor country is larger than the differences in real tax revenues between the two countries.
As with all the other data that we have viewed previously, this data strongly suggests that China's economic system was significantly less sophisticated than Western Europe's in the late 18th century.
5. Silver flows
The flows of silver during the Early Modern period provide us invaluable information regarding the economic configuration of the world at it's early phase of globalization. Silver was the world's standard mean of exchange and as result demand for silver was demand for money and demand for money was generated by the sales of goods to the market and hence by the scale of market activity. Thus, by the analysis of the patterns of silver demand we can reconstruct the relative sizes of the market economies around the early modern world.
By the 18th century 90% of the world's silver supply came from the Americas (9), so tracing the paths of the American silver supply would give us a good idea of the relative sizes of the economies in the world in the 18th century.
The flows of American silver to Europe, Asia and from Europe to Asia are well detailed in these tables: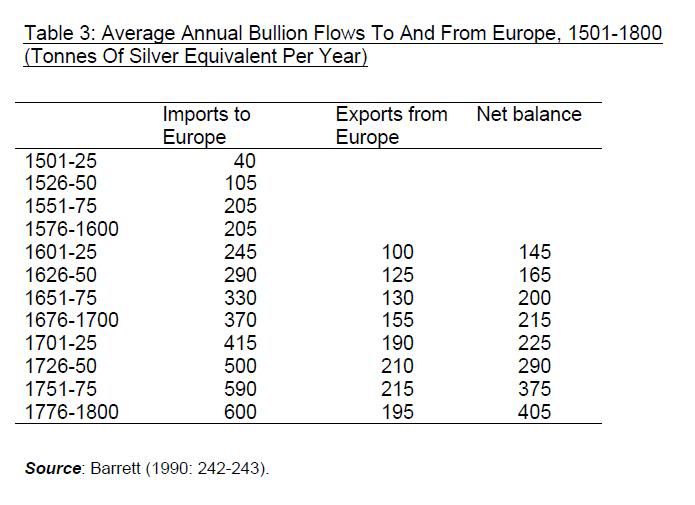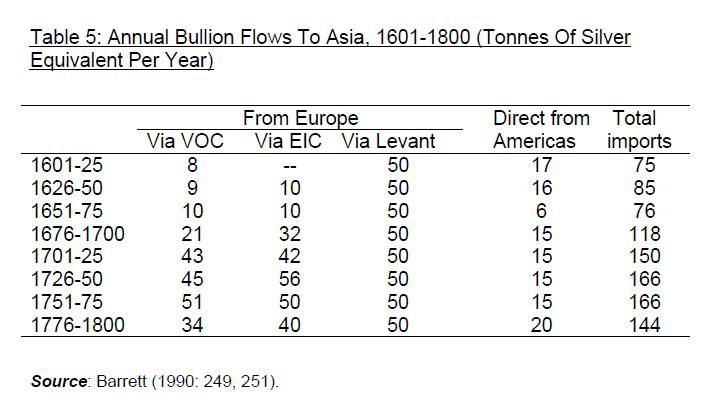 By the late 18th century, Europe was importing net of 400 tons of silver a year, these were the silver imports that were not re-exported to other parts of the world. Thus that was the silver demanded by the European economies. While Asian total silver imports, from Europe and directly from the Americas were about 150 tons of silver, 37.5% of the European levels, Asia didn't re-export much silver, so I assume that total imports were net imports, thus 150 tons were the total silver demands of the Asian economies. Asia's population was 600 million in the late 18th century while Europe's population was 150 million, indicating that the per capita demand for money in Europe was about 10 to 11 times higher than in Asia as whole. And that Europe alone had total net silver demands in the order of two thirds of the world's total, considering that the world's average annual silver production in the late 18th century was 650 tons. Indicating that the bulk of the world's economic activity in the late 18th century occurred in Europe.
Chinese silver demand per capita was probably near the Asian average, considering that China's population was 50% of Asia's by the late 18th century, 300 million people. So China's net silver imports were around 75 tons. That's 19% of the European silver imports.
One could argue that the Europeans had higher silver net imports per capita because of mercantilist policies. Thus accumulating more silver and hence having higher silver prices. That thesis is refuted by the fact that Spain that had the majority of the European silver supply, but silver prices in Spain were not higher than elsewhere in Europe, since Spanish silver flowed to the countries that had the highest levels of productivity such as the Netherlands, whose silver wages were nearly two times higher than Spain's. Asian countries failed to import enough silver from Spain to increase their nominal wages like the Netherlands did because their economies were less productive and thus couldn't produce goods in the international markets to the degree required to increase domestic silver supply.
I note also that total tax revenues in Western Europe, assuming French/Spanish levels of per capita tax revenues (a reasonable assumption, since France and Spain were average Western European countries) would be 6,000 tons of silver in the late 18th century, while Chinese total tax revenues in terms of silver were 1,223 tons (8), that's a difference of 5 times. And note also that China's silver imports were 75 tons, while Europe's silver imports were 400 tons, circa 5 times the level of Chinese silver imports, note that Eastern Europe's total tax revenues were about 10% of Western Europe's level, and Western Europe was much more advanced, thus the silver demand in Western Europe will correspond roughly to the total silver demand of Europe. Hence both sets of data converge on the hypothesis that the Western European market economy was 5 times larger than the Chinese market economy (which was the economy above the subsistence production of the vast majority of Chinese and European families), in terms of international value (similar to our modern notions of Nominal GDP), while the population of Western Europe was 3 times smaller, thus implying that Western European per capita incomes in nominal terms would be 15 times higher already in the late 18th century. Also supporting the notion that Europe was economically more advanced already in the Early Modern period.
6. Urbanization
The rate of urbanization represents another valid indicator of economic development. More urbanized societies are generally wealthier societies. That's because urban areas are where space intensive economic activities are conducted, such as manufacturing and services, while the countryside is where space extensive economic activities are conducted, in other words, agriculture. Since the amount of goods that a person can consume is unlimited in general, but the amount of food that a person can consume is limited by their stomach, hence, a greater income will represent a reduction in the proportional expenditures in terms of food. Thus expenditures in products offered by the services and manufacturing segments of the economy will expand in proportion of the total expenditures and therefore the rate of urbanization will rise. And also, there is a strong correlation between the rate of urbanization and development among modern countries:
Thus the rate of urbanization is another useful proxy of development. Let's apply this proxy for China.
For the rate of urbanization in Europe we have very detailed statistics by De Vries. For China we don't have good statistics of the rate of urbanization: the most rigorous estimate available, by Rozman, is based on a large set of conjectures, but we can still use his estimates to get a rough idea:
Rate of urbanization:
(cities over 10,000)
Date -------- 1500 --- 1600 --- 1700 --- 1800
W. Europe --- 5.8 ---- 7.9 ---- 9.0 ----- 10.2
(11)
China ------- 3.8 ---- 4.0 ----- N.A. ---- 3.8
(12)
Western Europe's rate of urbanization was considerably higher than China's during the whole early modern period and it increased from 153% of the Chinese rate in 1500 AD to 197% in 1600 AD, to 268% in 1800 AD.
We can also compare the
number
of cities over 10,000 inhabitants:
Date -------- 1650--- 1820
W. Europe --- 197 ---- 364
(11)
China ------- 112 ----- 136
(12)
From Woods (13) we also have the comparative rate of urbanization including only cities over 40,000 inhabitants:
(cities over 40,000)
Date ------- 1600 --- 1700 --- 1800
W. Europe --- 3.5 ---- 5.2 ---- 5.6
(11)
China ------- 1.7 ---- 1.9 ----- 1.7
(13)
The proportion of the Western European population living in cities over 40,000 inhabitants was 206% of Chinese proportion in 1600 AD, 274% in 1700 AD and 329% in 1800 AD. Notice that in both measures the rate of urbanization in China are stagnated while Europe's rate of urbanization is gradually increasing. Which suggests that the Chinese economy was stagnated in the Early Modern period while the European economy was developing. Which is expected, given the very significant differences in levels of economic development by 1800 AD, that those differences were smaller in earlier centuries. The urbanization statistics suggest that already in 1500 AD, China was already poorer than Europe. In fact, I honestly think that Europe pulled ahead of China around the 13th and 14th centuries.
In terms of regional variation, China was more homogeneous than Europe, in the mid 19th century this was the regional variation of the rate of urbanization: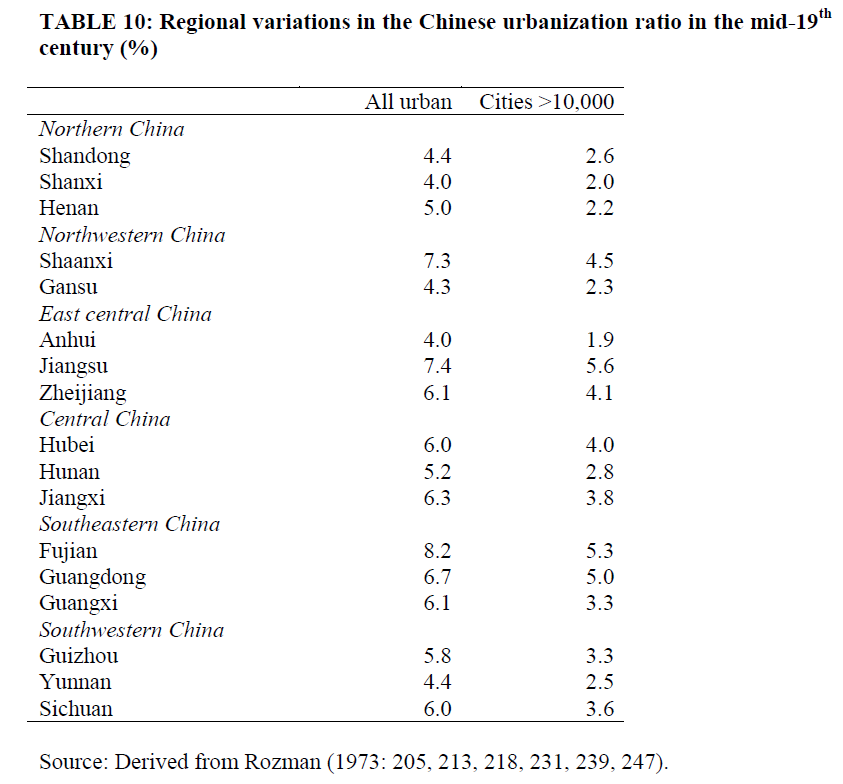 Chinese regional rates of urbanization were close to the national average. That's because the Chinese economy was rather homogeneous in terms of development. The most urbanized regions of China had attained 5% of their population in cities over 10,000 inhabitants. In 18th century Europe the relative rates of urbanization varied much more as the most urbanized regions of Europe had a rates of urbanization of 30%, 6 times higher than the highest rates in China, while the lowest rate of urbanization were 3.7%, much closer to the lowest levels in China, of 1.9%. Indicating that Western Europe was a more heterogeneous region than China: which is naturally expected as Western Europe was divided among several states, each state having different institutional frameworks and thus generating different outcomes while China was a single state and thus the institutional framework imposed over the whole Chinese civilization was the same, generating more similar outcomes. That means that China was not just poorer on average than Western Europe, it was also poorer everywhere.
7. Aggregate measures
Finalizing, here are the 1990 international dollars GDP per capita incomes estimated by Maddison (3) for Western Europe in 1820 AD and for China I used the levels of agricultural productivity as estimated by Chinese historians to estimate GDP based on Maddison's rate of conversion of 68 cents of 1990 dollar per kg of grain equivalent:
Netherlands ------ 1,838
United Kingdom --- 1,706
France ----------- 1,135
Italy ------------- 1,100
Spain ------------ 1,008
China ------------ 530*
*
http://www.historum.com/asian-histor...ml#post1060988
A more rigorous set of GDP per capita estimates have been produced recently, for Japan and the UK, note how strongly they correlate with the wheat wages for Japan and Western Europe given in section 1: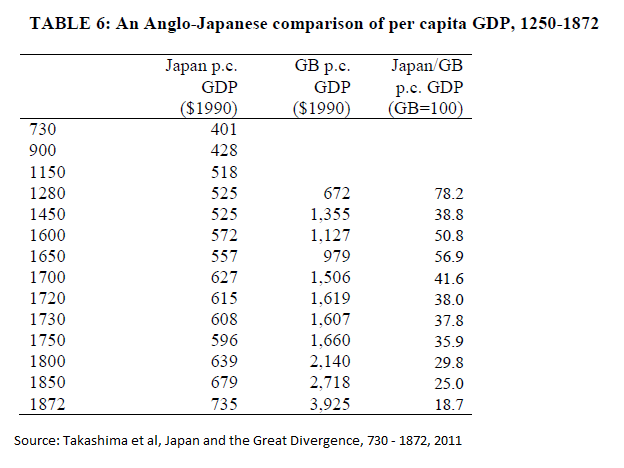 8. Geopolitical influence
European powers already reduced the whole rest of the world to geopolitical penny weights by the end of the 18th century. When French forces invaded the Ottoman Empire at the turn of the 19th century they were unable to defend themselves and required British help to be able to offer effective resistance to French forces.
In 1839 we all know that the British defeated China in what can be considered the most one-sided conflict in history: in many battles the British sank several Chinese junks while suffering a few men wounded. For example, in the First Battle of the Chuenpee the British destroyed 4 Chinese ships and lost only 1 men wounded! Not even the Spanish conquistadores managed to achieve such ratios of exchange against the American natives nor the Roman legions managed to defeat Celtic of Germanic tribes with such low casualty rates. In the numbers of wikipedia about the war, the British deployed 19,000 men, the Chinese, 200,000 men, while the British suffered 520 casualties (among killed and wounded), the Chinese lost 18,000 to 20,000 men. That means that 19,000 British inflicted 35 to 40 times more casualties on the enemy than the 200,000 Chinese. Which implies in a casualty infliction capability
about 400 times greater
by the British relative to the Chinese. (10)
And the British forces in 1839 were not that different from those that fought Napoleon a few decades earlier. In fact, the Nemesis, the British warship that was the "nemesis" of the poor Chinese junks, was a small ship of 660 tons, for comparison, in the late 18th century there were warships much larger, of over 3,000 tons such as the British Flagship of the Napoleonic wars, the Victory, of 3,500 tons or the Spanish flagship Santisima Trinidad, of 4,950 tons, about 8 times the size of the Nemesis. (10) The Battle of Trafalgar in 1805 involved an order of magnitude greater firepower than any battle of the Opium War. European warships already in the late 18th century were war machines vastly more powerful than anything that existed in Asia at the time. The product of a more advanced military sector of the European economies.
Therefore China's military capabilities in the year 1800 were already negligible compared to Europe's. In fact there were only five great powers in the world at the beginning of the 19th century: Britain, Prussia, France, Austria and Russia. All European countries, as the rest of the world was of secondary geopolitical significance: their militaries were of much lower quality and effectiveness.
Conclusion
As I conclude, the hypothesis that China was not poorer than Western Europe at the turn of the 19th century is proven to be simply wrong. By the late 18th century it is very clear that Western Europe was surely a more developed economy than Qing China. All empirical data suggests that. No empirical data and historical fact is consistent with the hypothesis that China wasn't less developed than Western Europe in 1800 AD.
Sources:
(1) Broadberry & Gupta, The Early Modern Great Divergence, The Economic History Review, 2005
(2) Broadberry, Editor's Introduction to The Review of Economic History, 2011
(3) Maddison, The World Economy: A Millennial Perspective, 2001
(4)
Metal Production Figures? - Han - China History Forum, Chinese History Forum
(5)
Balassa
(6) Adam Smith, The Wealth of Nations, 1776, Penn State Eletronics Classics Series Publications
(7)
Internet History Sourcebooks
(8) Ma, Rock, Scissors, Paper. Working paper, Departament of Economic History at London School of Economics
(9) United States Geological Survey
(10) Wikipedia, First Opium War
(11) Jan De Vries, European Urbanization 1500 - 1800, Harvard Studies in Urban History, 1984.
(12) Rozman, Urban Networks in Qing China and Togugawa Japan, Princeton University Press, Princeton, 1973.
(13) Woods, Urbanization in Europe and China during the Second Millenniun: A Review of Urbanism and Demography, 2003
Comments