Obligatory Tourist's Commentary
---
On arriving, I took a cab from Haneda airport to Nishi-Shinjuku where my hotel is located. It is roughly a 1 mile from the JR Shinjuku train station and practically just down the block from the Tokyo Government building(s).
With the weakened state of the dollar, the cab fare was the equivalent of $140 (¥12,000). And this was far cheaper than it would have cost had I landed at Narita so I am told (about half or less the cost).
Energy conservation is in full swing. I landed at night and much of the City was unlit and dark ... which was an eerie experience. Buildings were dark except for isolated offices where the lights were still on with people toiling away inside. Street lamps were all off. It made it difficult for the cabbie to find my hotel, which had turned off all of its electrical signs and floodlights.
And, needless to say, the air conditioning was turned down to low power ... but the weather has been temperate. It is, however, more humid.
People are pressing on regardless. Business pretty much is back to usual except, obviously, for all of the factories and towns along the northeast coast that have been damaged either by the shake and shock of the quake or by the even more catastrophic devastation of the tsunami. And the kinds of manufacture and production that relied upon those damaged plants are not doing well.
Some in the media refer to the catastrophe as "san ten ichi ichi" which means 3.11. An obvious parallel to 9/11.
And the TEPCo Dai-ichi nuclear power station in Fukushima continues to deliver
depressing or morale sapping news
about the problems going forward toward a more positive progession line.
But in the news today (Sunday) is an announcement that the Prime Minister, Naoto Kan, will be reaffirming nuclear power generation for Japan.
My cabbie had said that the nuclear power industry had a lot of political clout in Japan and that there was an interlocking directorate amongst the various electrical generation companies of which Tokyo Electric is a grandfather to many of them.
A man collapsed and died at the Dai-Ichi power plant yesterday but it does not seem to be radiation related. He was 60 years old and I suspect he was overwhelmed by the stress and strain and probably a stroke or congestive heart failure or something like that.
There are a lot of signs, in store windows, etc., urging people to keep their chin up, to persevere.
They basically say:
"Gambare Nippon!"
The locally televised programming daily runs an installment as part of morning shows and the news a number of features about how people are faring in the shelters etc.
And there are special features produced that tell stories about what some people based in the affected areas are doing post-disaster.
Yesterday was a show on NHK's Science Zero
ƒTƒCƒGƒ"ƒX'y'd'q'n
(<--link to NHK)
About the Pacific League's professional baseball team based in Sendai, the Rakuten Eagles and its manager,
Senichi Hoshino
.
How they were away at spring training when the tsunami hit, and how the air of optimism that Hoshino had leading up to 3.11 was knocked out of him ("how superficially trivial my work is" ... he says at one point) and the team for a while and how they bucked up and worked toward starting the regular season and winning it for their hometown crowd. And they did, promising to win opening day at a borrowed venue while they awaited repairs to finish at their Sendai ballpark, and some other signature days plus, finally, opening day at their home park in Sendai on April 29.
I got teary eyed watching that show ...
Those folks in the affected Tohoku region have been sticking it out and things slowly are improving but the logistical nightmares still extant and the mammoth size of the devastation are very daunting.
The
Emperor and Empress have been making visits to the disaster zone
, paying respects to the dead and visiting with the displaced. While this may seem to be expected ... especially when compared to the Royals in the UK and what they do rather routinely, almost, it is rather unprecedented in Japan ... the Emperor's father was not known to be so publicity minded ... and they have made quite an impression upon the people in those places.
The link refers to a visit made last April 18. It records one of many. They just visited another locale this past Thursday and they both got down on the floor with the survivors and bowed to them and shared words of encouragement with them. Depending on the age of the folks I asked about this news, the older ones were very deeply impressed. One very senior man said he never imagined that he would see something like that. Which pretty much is what one of the survivors, an elderly lady, said too.
I think it is a good sign that the Kunaicho - the Imperial Household Ministry - has learned how to use matches*** when it comes to public relations and the role of the Imperial Family for the nation.
***they still have a very long way to go.
My weekend off in Tokyo
. - Some pictures*
*I forgot my camera** at home. So I've been using my smartphone camera which is a bit clumsy for me. The shots seem blurry so apologies to those who find the shots to be too difficult to view.
**I have been thinking about buying a new camera while I am here. Go to Akihabara and get lost looking at all the stores and their wares.
Yesterday, I ventured to Harajuku, a district in the City which has a lot of high end fashion shops as well as young people of all stripes of fads, including the more outlandish modes adopted by some of the girls.
Top-knots, apparently, are still in vogue.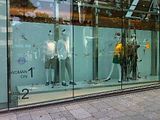 Lots of young people are out as usual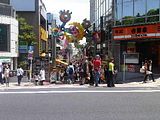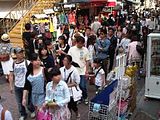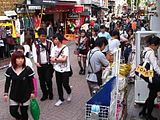 I also walked over to the Meiji Shrine which is very close by in Yoyogi Park.
It is a very popular place to hold weddings.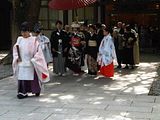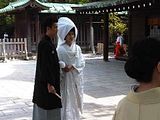 The interior space of the Shrine itself may not be recorded but I got a picture of the front of the building itself and these two gorgeous trees that are on either side of it. From left to right ....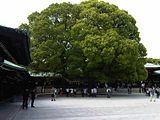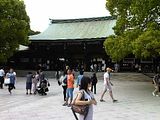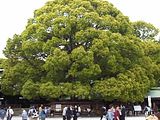 I've been trying to find out what kinds of trees they are but no luck so far. The tree on the right has a setup beneath it where people are able to right a prayer, remembrance or wish and hang it on a peg for the gods to heed.
Ambient radiation
One of the folks that have been flown-in to Tokyo to work in the field that I am in ... as an opposite to my role ... brought along a digital radiation detector. He is home-based in Singapore and bought it there.
He turned it on in Singapore to get a base reading. He says the first night here, the first thing he did was unpack the detector and turned it on.
To his big surprise and great relief the detector had a reading that was less than half of the base level reading he had in Singapore.

My Assignment
I am under strict direction by my employers not to venture inside the US Govt's declared exclusion zone which is 50 miles (approx. 80km) of the reactors. The Japanese Govt's exclusion zone is 30km. Either way, I have no plans to go North and to look at the destruction.
After the kinds of things I directly experienced while at Ground Zero, I have no interest in seeing more destruction and smelling death.
Comments