Napoleon's Army Commanders
---
The highest rank within the Grand Armee was the General de Division (something that would not change until the First World War) and the highest command attainable was the command of a Corps. Essentially a General de Division could be given command of a Corps and not necessarily just a Division. Marshal of France was merely a title given to these generals and as a Marshal of the Empire one would usually command a Corps or in some cases given command of an entire front or Army where Napoleon himself was not present. In the days before the Empire there existed various armies on different fronts however upon taking power Napoleon abolished these armies and declared that there was only the Grand Armee (most likely to maintain his control over the entirety of the armed forces). Many of these appointments were political in order to win over prominent generals or to reward them for past service but who would otherwise not be expected to see service again. Napoleon also appointed those such as Murat and Bernadotte based on family ties or loyalty. Others gained their Marshal's Baton for their merit alone but a loyal officer was not to be underestimated and these needed to be given key positions to maintain control.
To my knowledge the term "Armée" was not used again to describe troops placed on another front but for all purposes it was essentially organized as another army. These armies were usually placed in command of a trusted member of Napoleon's dynasty for example Joseph Bonaparte commanded the force which invaded Naples in 1805 however it was actually under the command of Andre Massena who commanded the 1st Corps, a similar scenario occurred in Spain with Joseph's commanders being moved around as Napoleon and Joseph saw fit. In 1809 the forces in Italy were placed under the command of Eugene de Beauharnais (as Viceroy of Italy and commander of the Kingdom of Italy's military) with Jacques MacDonald as his main military adviser or commander (this force however was comprised of a single corps or sometimes two with some Italian divisions filling in the ranks).
In 1813 Napoleon briefly divided his force in Saxony into three actual armies commanded by himself, marshal Nicolas Oudinot and marshal Michel Ney, the latter replaced with Jacques MacDonald. These were not independent commands however as Napoleon exercised control over their armies. This constitutes what today we would call an 'Army Group' though at the time no such concept really existed.
However there were other Marshals and military commanders that led campaigns of their own outside of Napoleon's direct influence. For example when Napoleon was in command of the Italian front (1797) there were other successful generals such as Lazare Hoche and Jean Victor Moreau. Early on when Napoleon was still just a general, they could be seen as rivals within the army and at least in Moreau's case a rival for political power.
Lazare Hoche
Lazare Hoche had served as a general along the Moselle and Rhine front (1793) and took command of the war in the Vendee (1794 to 1796) and after a brief tenure where he attempted to invade Ireland, his ships being unable to sail from Brest due to the weather. Hoche served briefly as War Minister but rapidly resigned. Finally he took command of the northern German front (1797). Replacing Jourdan he successfully defeated Austrian forces before his success was cut short by his fellow general Bonaparte who forced Austria into a peace treaty. It could be said that his maneuvers were more subtle than those of Moreau, he trapped the Austrians under Franz von Werneck at Neuwied.
In September of 1797 Hoche and Bonaparte assisted the Directoire in their coup against the Council of Ancients and the Council of 500.
The unfortunate Hoche died of illness soon after. Though he does not count as a Marshal or even one of Napoleon's subordinates he was a contemporary and highly skilled general. Napoleon would say that he was one of the finest generals in France, "a true man of war". According to the likes of Soult, Gourgaud and Montholon they saw the existence of Hoche and Bonaparte as a potential rivalry the likes of which they compared to Caesar and Pompey in their ability to shake the Republic. However Hoche gained prestige due to his excellent record not for his vast political influence. Whether he would have opposed Bonaparte's seizure of power would be completely unknown. As Napoleon himself would put it "I only ever saw Hoche once or twice", implying that he did not regard Hoche as a suitable political rival. Nor is it known whether Hoche had any ambitions of his own to preserve the Republic or rule of his own accord.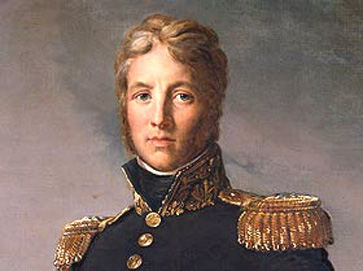 Jean Victor Moreau
Jean Victor Moreau was another skillful contemporary of general Bonaparte. He first established himself as a brigadier under Joseph Souham in Flanders helping to achieve victory during 1794.
In 1795 he was given command of the army of the Rhine and Moselle which controlled the southern flank of Germany whilst his comrade general Jourdan commanded the northern flank. Both armies crossed the Rhine and advanced as far as Bavaria before Archduke Charles trounced Jourdan and forced both him and Moreau to make a fighting retreat back across the Rhine.
Later on during 1797 Jourdan was switched with Hoche and both he and Moreau crossed the Rhine again and achieved several victories before general Bonaparte forced the Austrians to make peace. During 1799 he commanded the Army of Italy but was defeated by Alexander Suvorov and he did not see a command until 1800 when First Consul Bonaparte sent him to cross the Rhine with an army. He successfully defeated the Austrians at Hohenlinden (a battle very comparable to Marengo in its results and execution) which together with general Brune's victory on the Mincio River ended the Second Coalition War.
Together with Bonaparte and Hoche, general Moreau was considered among the three best generals of France.
Unfortunately for him he was charged with treason, due to his political influence and ambitions, and exiled from France by Napoleon. However he would return in 1813 as a general under the Tsar and was killed by a cannon ball at the Battle of Dresden. No doubt both Moreau and Hoche would have been made marshals had they been present during the Imperial period. Napoleon would say of him "Moreau had no system in either politics or military matters. An excellent soldier, he was personally brave and very capable of moving a small army on the battlefield, but he was an absolute stranger to the knowledge of grand tactics. Without his woman he could have performed admirably for me, for basically he was a brave man, but he could not effectively command more than 20,000 men. This was also the opinion of Kleber and Desaix. Perhaps under my tutelage he could have been molded. Had I 40,000 men I would not fear a Moreau that possessed 60,000 men nor a Jourdan that possessed 100,000!".
After 1797 Napoleon would scold his fellow generals stating "In the first instance, you (Jourdan and Moreau) need to know what you want to do and have a plan. Actions are meditated at length and, to achieve success, you need to think for several months about what might happen. I am in the habit of thinking for three or four months in advance about what I must do and I reckon on the worst. A plan of campaign must anticipate anything the enemy might do and contain the means of foiling him".
Given that he had won in Italy and by himself ended the war but was also a commander relied upon by the government and the most popular man in France, he addressed them directly without any reservations. No longer did Napoleon have any clear rivals.
Andre Massena
Andre Massena was another highly distinguished army commander and Marshal of France. He served both as Napoleon's superior and later subordinate in Italy from 1794 until 1797. In 1799 he was put in command of an army in the Swiss Alps where he successfully fought Archduke Charles and despite being forced to abandon Zurich he rapidly returned to defeat Alexander Korsakov outside of the city. This action allowed Coalition military efforts to be split in half and Alexander Suvorov was forced to maneuver his way along the Alps and retreat to the north east whilst being blocked and pursued by Massena. He was again sent to Italy in 1800 to protect Genoa but was completely cut off and besieged within Genoa by Michael von Melas. Despite a brilliant defense he surrendered the city on the condition of dignified retreat back to France. Although he surrendered the city not knowing that Napoleon was approaching with an additional army the defense made him a popular general but brought him some criticism from Napoleon. Regardless his delaying of Melas' forces allowed for Napoleon to catch the Austrians by surprise as he emerged from the Alps directly onto the enemy rear and cutting off their supply and communications. Massena took part in further operations under Napoleon's command until after the Battle of Marengo.
No doubt for his reputation as the commander of an army Napoleon gave him his Marshal's Baton upon the founding of the Empire and he was again employed in Italy. As commander of the Italian front he spent all of 1805 sweeping back Archduke Charles army to the Austrian border and after the Austrian capitulation he was sent to conquer the Kingdom of Naples.
He spent the Fourth Coalition and Fifth Coalition Wars as a corps commander under Napoleon in Germany, Poland and Austria. Again he was given an independent command in Portugal where Junot (1808) and Soult (1809) had failed and despite successfully capturing some cities along the Portuguese and Spanish border he was checked at the Anglo-Portuguese defenses of Torres Vedras and defeated at Bussaco (1810) and then fought an indecisive engagement at Fuentes de Onoro (1811) against the Duke of Wellington. He was then relieved by Marshal Marmont and saw very little service afterwards given the chance to go into retirement (being a full decade older than Napoleon).
To Massena, the Beloved Child of Victory and the Prince of Essling, the Emperor was very generous indeed: "To win is not enough: it is necessary to profit from success. In the profession of war, like that of letters, each has his style. For sharp, prolonged attacks that require great boldness Massena would be more appropriate than Reynier. To protect the kingdom against invasion, Jourdan is preferable than Massena. General Reynier had been trained to be a topographical engineer. He understood maps thoroughly, had waged campaigns with the Armies of the North and of the Rhine, where he acquired the reputation of being a man of sound advice, but he lacked the most essential qualities of a commander in chief. He loved solitude, was by nature cold and silent and not very communicative, and he knew neither how to electrify or to dominate men. A division commander in the Army of Italy, Massena had a strong constitution and was tireless, on his horse night and day among the boulders and in the mountains. This was the kind of war that he understood particularly well. He was determined, brave, bold, full of ambition and vanity. His distinctive characteristic was stubbornness and he never got discouraged. He would neglect discipline and pay little attention to administration and for this reason was not much loved by his soldiers. He was tolerably poor in his dispositions for an attack. His conversation was not very interesting but at the first cannon shot, in the midst of bullets and dangers, his thought would acquire strength and clarity. If defeated he would start again as if he had been the victor".
Jozef Poniatowski
However I would say that Andre Massena and Jozef Poniatowski were among the best of their time as they had the most impressive independent actions. Poniatowski had fought successfully during the 1792 Polish uprising and then in the next uprising during 1794. When Napoleon's armies marched into Poland during the autumn of 1806 he was one of the leaders in the Polish insurrection against the Prussian kingdom. In 1809 he was able to defeat Austria's invasion of the Grand Duchy of Warsaw showing his military skill against the Archduke Ferdinand. He then took part in the 1812 invasion of Russia and the subsequent German campaign of 1813 where he served with distinction and was given his marshal's baton by Napoleon although he was killed at Leipzig. According to the Emperor himself, he long intended to make Prince Poniatowski the King of Poland, there was no Pole who was more loyal nor more deserving of the prestigious military rank than he.
Although many other marshals and generals led their own campaigns with mixed success most notably Junot with his Corps (Portugal 1807-1808), Soult (Iberia 1808-1812, Pyrenees 1814), Marmont (Ragusa 1806-1809, Illyria 1809-1811, Iberia 1811-1812), Moncey (Pyrenees 1794-1795, Iberia 1808-1811), Brune (Swiss 1798, Netherlands 1799, Italy 1800), Suchet (Iberia 1808-1814) or Eugene de Beauharnais (Italy 1809, Hungary 1809, Italy 1814). Other army commanders who died before their time were Jacques Francois Dugommier (Napoleon's commanding officer at Toulon), Jean Baptiste Kleber (an officer who served Napoleon in Egypt) and Jean Etienne Championnet (the commander of the Army of Naples, in 1799 he declared that only Napoleon could remedy the situation in Italy). Some had successfully commanded armies before Napoleon's rise to prominence as a general, such as Jean Baptiste Jourdan (victor at Fleurus) and Francois Christophe de Kellermann (victor at Valmy) during the Revolution. These two would become Marshal's under Napoleon's rule but would seldom see active duty. It may be misfortune but Jourdan was sent to serve Joseph Bonaparte in Spain where he was defeated various times by the Duke of Wellington. All other generals were either subordinates of Napoleon or contemporaries who waged campaigns at the same time that Napoleon was just starting.
Louis Antoine Desaix was a Division commander who was considered to be highly skilled and may well have been promoted to Marshal had he not died at Marengo. Napoleon would say of this man's talents "Desaix was the most capable of commanding large armies. Better than the others, he understood la grande guerre as I understand it. In my judgment Kleber was second in this respect, and Lannes perhaps third" which lends credence to the idea that Napoleon would have used him in a higher capacity along with Kleber and Lannes had they not died before their time. Though Lannes was made a Marshal and died during the Empire leading a Corps it was Kleber who died before that, most likely he would have been made a Marshal as well.
Comments