The Aesthetics of Carthage
---
The Aesthetics of Carthage

Mausoleum at Thugga (2nd Century BC)
Recently, a thread began by our Guaporense questioned the aesthetics of Carthage, and suggested it was heavily hellenized and perhaps looked more like Athens:
http://www.historum.com/ancient-hist...haginians.html
Though there were aspects that saw the influence of Hellenism on Carthaginian society, it appears that the architecture mainly followed their Phoenician roots. Any temples in the Greek form were few at best and have left no recognisable archaeological trace – were there any temples, they were most likely restricted to the area of the resident Greek community, and to Demeter and Kore whom the Republic adopted in 396 BC (Hoyos, p.78) Carthaginian temples were flat-roofed, and this is inferred by evidence from carvings on Stelae and other sculptures. They are usually presented with two columns aside a porch leading to the interior
cella
of the building. Entablature of temple roofs reveal they were carved in complex geometric patterns influenced by Egyptian motifs.
There is a structure still standing in Carthaginian influenced Libya, just below the hillside of Thugga. It is a mausoleum standing twenty-one metres high, dedicated to the Libyan lord of the Region Ataban 'son of Yofamit son of Filaw'. The inscription is in Punic and Libyan, and there are a few other Carthaginian names mentioned on it (the stonemason and specialist workers).This design appeared to be quite popular, as revealed in other Carthaginian influenced parts of Libya where similar 'towers' stand.
We have some other perhaps revealing insights to the aesthetics of Carthage at Kerkouane, a town that has been suggested was a Carthaginian settlement situated at Cape Bon. Inside the house and painted on the walls of a tomb is a crenellated walled city with square buildings besides a niche with the symbol of Tanit and a rooster (a symbol of the soul):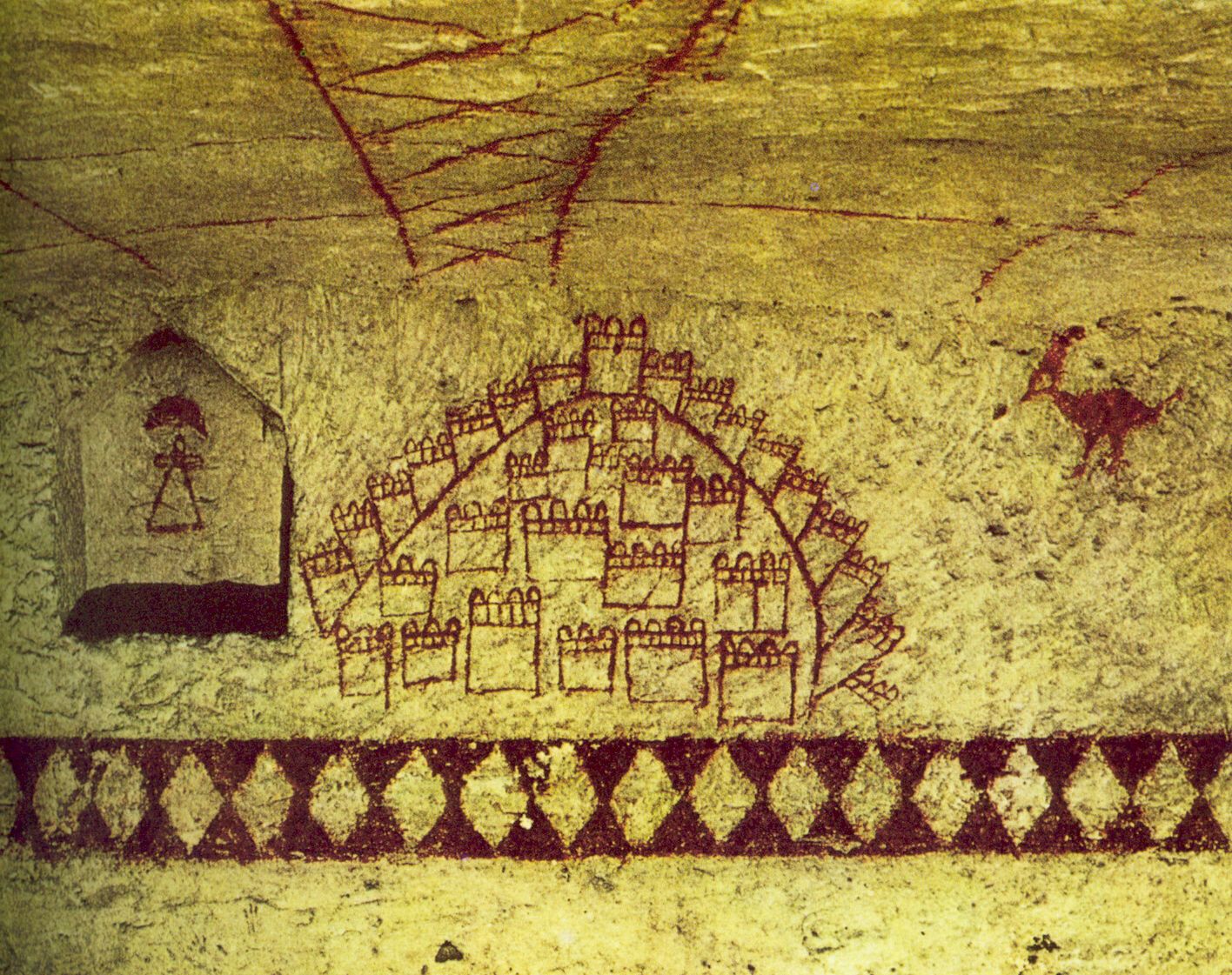 The homes were of the same Phoenician type also found in Spain. In Carthage then homes had flat-roofs with access by stairs and ladders. Many homes had interior courtyards reached through narrow corridors from the street. They had a drainage system feeding water into stone wells below. Some homes had stuccoed sandstone columns and Punic-style floor mosaics.
Entrance to a house in Kerkouane with a symbol of Tanit
Inside the walls of Carthage in the Megara area there developed a garden suburb and Appian describes it thus:
'planted with gardens and full of fruit-bearing trees divided off by low walls, hedges, and brambles, besides deep ditches full of water running in every direction (Appian, 117)
Megara was allowed to continue as a semi-rural district rather than follow planned urbanisation.
The walls of Carthage were fairly impressive structures, over five-meters thick, with a mighty double-gate opening onto the beach. The wall extended as far as the edge of the lagoons. Interestingly, no landward walls so far have been discovered, but it would not make sense had it been left open.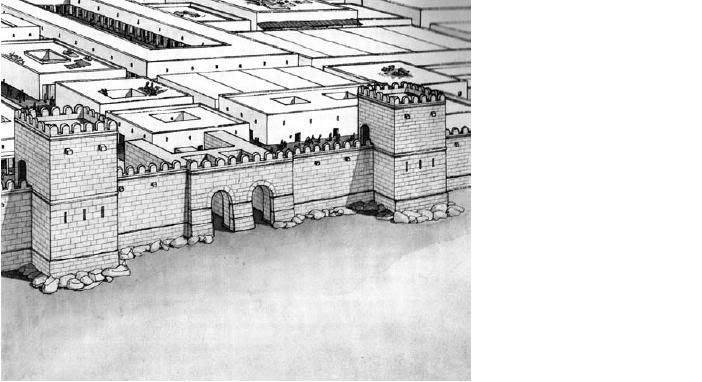 Artist rendition of the sea walls of Carthage, 400 BC
However, there have been some finds of building remains that are Greek influenced, like the surviving upper part of an Ionic sandstone pillar in the '
tophet
', the remains of an Ionic column from the 'Hannibal quarter', along with the Ionic columns on the Thugga mausoleum (pictures above), however it must be stressed that Greek influence certainly did not push aside other forms. In fact, examples on surviving
stele
, and
cippi
show a mix of all three styles; Phoenician, Egyptian, and Greek!
Bibliography:
Appian's History of Rome: The Punic Wars (
Appian's History of Rome: The Punic Wars
)
The Carthaginians by Dexter Hoyos, 2010
Daily Life in Carthage at the Time of Hannibal, by Picard, 1961
(Will write in a bit more detail, and about the Harbor and other public buildings at a later date!)
Comments