Shahr-e Sūkhté
Posted February 25th, 2012 at 06:49 PM by
okamido
---
Located in southeastern Iran, near the Helmand river, the city of Shahr-e Sūkhté (Burnt City) dates back to 5200 bce.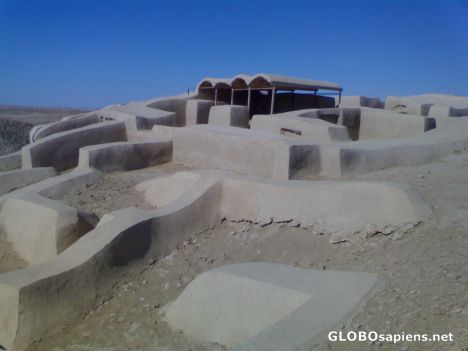 Some notable aspects of this city revolve around the position of women, many of whom are buried in the 40,000 graves along with special, etched pebbles.
These pebbles are thought to denote a higher status and were possibly used as seals for official documents. These documenst may have been ushered between Shahr-e Sūkhté and other local cities by camel courier, possibly even Ur, as some archaeologists have concluded that some items found in burial chambers had originated from Shahr-e Sūkhté . Scientists have come to this conclusion due to the unusual find of a man, who died between 40-45 years of age, that shows specific signs of relentless wear and tear on his legs from continual riding.
From Wikipedia:
Quote:
In one of the most recent discoveries from January, a team of Iranian and British anthropologists, working on human remains in the city from the 3rd millennium BC, identified a male camel rider who they believe was a messenger in ancient times.
Studies of the skeletal remains belonging to the man reveal evidence of bone trauma, suggesting that he was a professional rider who most likely spent most of his life on camel back.
Indications of riding are seen on the right leg bone of the man, who died at the age of 40 to 45. The swellings show that he continuously worked as a professional rider since he was a teenager. There are blade-shaped swellings on the lower part of the leg bone which indicate that he used to gather up his right leg while riding, suggesting that he rode on a large animal like a camel or ox. Although there is evidence showing that smaller draft animals were also used in the Burnt City, the act of gathering up a leg while riding is something that one does while riding a camel over long distances. Scientists, then, believe that the man was probably a courier who traveled regularly on camelback.
Other finds within the city are the earliest known example of a backgammon game, some dice,
......and the conspicuous absence of any type of weaponry. Also interesting are the human remains of a very special woman.
Forensic reconstruction of face. (added 4/2013)
Dating to 2,800-2900 bce, this woman, who stood at an amazing 1.82 m tall (6 feet), bares the earlist known example of an artificial eye. Gilded in a thin layers of gold, and etched to resemble the sun, the artificial eye is believed to have been worn while she was alive due to the thin holes that had been drilled in order to facilitate a golden thread (which research shows to have existed within) that would hold the eye in place.
The craftmanship of the populace seemed to revolve primarily around weaving, put one find in particular is interesting. A goblet which seems to show the first ever attempt at a form of animation.
It seems that the city was eventually abandoned after 2100 bce due to multiple fires destroyed the city and it was not rebuilt.
Comments