helmet of Meskalamdug
Posted February 25th, 2012 at 07:51 PM by
okamido
---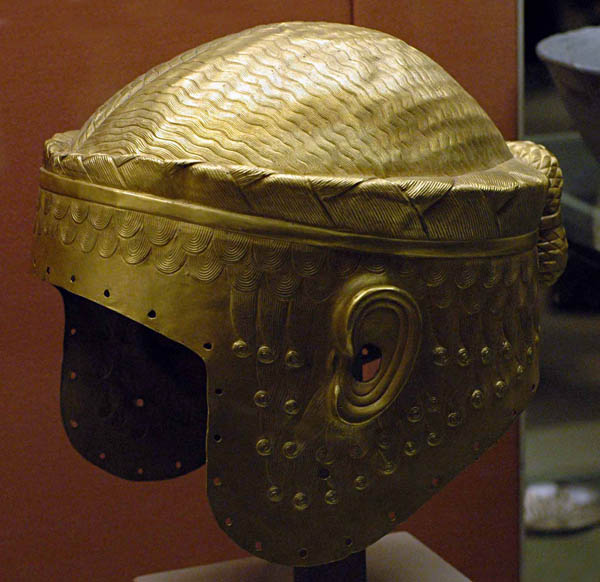 The golden helmet of Meskalamdug, an early Ensi (ruler) or Ur. It was discovered in the tomb of the aformentioned ruler in 1924.
Quote:
It was found by Leonard Woolley in PG 755 (PG means "Private Grave") in the Royal Tombs of Ur. Many of the artifacts in the tomb bear the name of Meskalamdug, a Sumerian king of the First Dynasty of Ur. However, the cylinder seal of Meskalamdug was found in in a subsidiary shaft of a larger tomb, PG 1054. This led Woolley to conclude that the smaller PG 755 was not the tomb of King Meskalamdug, but it perhaps belonged to his "grandson", who was buried with the legacy of the more illustrious grandfather (see a modern reconstruction of
PG 755
showing the helmet lying beside the head). It has always been assumed that it was the kind of helmet usually worn by lords and kings.
Sargon the Great
, also the King of Kish, wearing a very similar helmet.
A stone sculpture of the helmet/ crown that dates to around 2500 bce. The thinking is that this was for the third known King of Kish, Eannatum.
A modern reconstruction of tomb P755, thought to contain the remains of the grandson of Meskalamdug, where the helmet/ crown was recovered. Note the helmet to the side of the skull.
With thanks to the Sumerian Shekespeare:
http://sumerianshakespeare.com/172601.html
Comments