Bloody April 1917
---
The 9th April 1917, marked the beginning of the Battle of Arras, the BEF's Spring Offensive of 1917, launched to coincide with France's Nivelle Offensive.
To support the ground attack, the Royal Flying Corps deployed 365 aircraft, about two-thirds artillery spotters, photo-reconnaissance planes and tactical bombers, while the remainder were fighters, tasked with protecting them during their missions.
Here, however, was a problem, for the RFC aircraft were by and large outclassed by their German opponents. The mainstay of the Army co-operation squadrons was the BE2 series of aircraft, designed by Geoffrey de Havilland to be as safe to fly as possible, they were in fact too safe, unable to outrun or outfly anything else in the sky. The other machines, with the notable exceptions of the handful of French SPAD S-7s and the Royal Naval Air Service's Sopwith Triplanes, were little better. The Germans by contrast initially deployed, on the Arras Front, about 50 fighters in 5 squadrons ( Jastas in German terminology ) later rising to 8 Jastas., flying the Albatros D111 fighter, a shark like, streamlined aircraft fitted with two machine guns synchronised to fire through the propeller. Too many of the British fighters were still of the "pusher" type, machines with the engine behind the pilot, designs which predated the adoption of synchronised machine guns, barely able to defend themselves far less the aircraft they were tasked with protecting.
Two further factors were of influence. Firstly, the Germans, fighting a defensive battle, kept to their own side of the lines, with the result that any British aircrew who survived being shot down ended up being taken prisoner and were lost anyway. The second was Hugh Trenchard's policy of "no empty chairs in the mess" which meant that far too many inadequately trained pilots were sent to the Front, a problem exacerbated as the battle progressed.
During the month of April 1917, the British lost 245 planes. Some units being especially hard hit, Number 43 Squadron flew two seat Sopwith One and Half strutters at the time, of the 18 pilots and 18 observers on the strength on 1st April, all the observers and 12 of the pilots had become casualties by the month's end.
Jasta 11, were the most successful of the German squadrons, claiming 89 kills during the month, this single squadron therefore was responsible for inflicting over one-third of the RFC losses.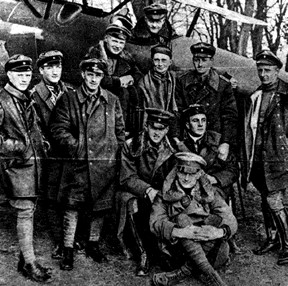 CO of Jasta 11, Manfred von Richtofen, seated in the cockpit of an Albatros D111, with other members of the squadron.
British RE8 reconnaissance plane about to crash
For the RFC it became known as Bloody April
Comments