Tensions in the Middle East during May 1967 saw the eviction of UN Peacekeepers from Sinai and the closure of the Straits of Tiran to Israeli bound shipping.
With various Arab leaders publicly declaring that Israel be eliminated, the Israeli Government decided to launch a pre-emptive air strike against its' opponents.
The attacks began hitting Arab air bases from 7.45am ( Israeli time ) on 5th June 1967, catching the Arab Air Forces on the ground.
The Israelis were equipped with French built Mirages, Mysteres, Super-Mysteres and Vautours against the largely Soviet supplied Arab Air Forces ( though Hawker Hunters did feature ).
wiki:
Egyptian defensive infrastructure was extremely poor, and no airfields were yet equipped with hardened aircraft shelters capable of protecting Egypt's warplanes in the event of an attack. The Israeli warplanes headed out over the Mediterranean before turning toward Egypt. Meanwhile, the Egyptians hindered their own defense by effectively shutting down their entire air defense system: they were worried that rebel Egyptian forces would shoot down the plane carrying Field Marshal Amer and Lt-Gen. Sidqi Mahmoud, who were en route from al Maza to Bir Tamada in the Sinai to meet the commanders of the troops stationed there. In this event it did not make a great deal of difference as the Israeli pilots came in below Egyptian radar cover and well below the lowest point at which Egypt's SA-2 surface-to-air missile batteries could bring down an aircraft.
The first Israeli wave attacked 11 bases, catching much of the Egyptian Air Force on the ground and destroying them before they got airborne. The Israeli jets then returned to Israel, were "quick-turned" (refueled and re-armed) in 7 minutes 30 seconds, and left in a second wave that attacked 14 Egyptian bases and returned with only minor losses. They "quick-turned" again and departed in a third wave.
The opening stages of Operation Moked were a complete success: Egypt's air force of nearly 500 combat aircraft was destroyed in the space of three hours, with only minor losses to the Israeli Air Force. When Syria, Jordan, and Iraq attacked Israeli targets in retaliation for the airstrike on Egypt, their attacks were mainly directed at civilian targets and were largely ineffectual. In response many of the IAF planes headed for a third strike on Egypt were diverted en route to Syrian and Jordanian targets, and other IAF aircraft were sent against Arab ground forces in support of Israeli ground forces. By the end of the first day of the Six-day War, Israel had complete air superiority over Israel, the Golan Heights, the West Bank, and Sinai.
Israeli Mirage taking off: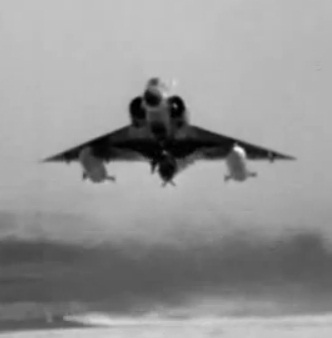 Egyptian aircraft destroyed in the attack:
The overwhelming success of Operation Focus left the IAF free to support Israeli ground forces for the remainder of the Six Day War.